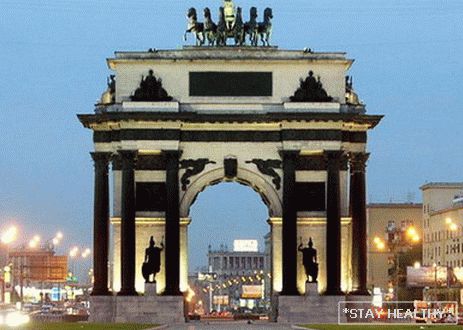 Mon 05 Sep 2016

In the capital, the fourth of September after the restoration activities
The Triumphal Arch solemnly opened. Arch Opening Ceremony
was dedicated to the great victory in the Patriotic War of 1812

The monument personifies the strong-willed, patriotic spirit
of the Russian people, who are ready to stand on the price of their lives
protection of the borders of the beloved homeland.

At the long-awaited opening, S. Sobyanin – Mayor of Moscow, as well as
Prime Minister D. Medvedev walked through the arches of the Arch and congratulated
people present with a significant event.

После длительной restoration Триумфальная арка приобрела свой
original appearance with some transformations. The specialists
were able to completely recreate the monument, which is a real
cultural heritage of the Russian Federation.

Initially, the historic building was created on the square
Tverskaya outpost, and later, in 1966-1968, was
forcedly "transferred" to Poklonnaya Hill.

At the gala event, the mayor told the Muscovites that
Russian authorities are planning to tackle the issue
construction viewing platform at the top of the arch.