I must say that the crab sticks have nothing to do with crabs or
to healthy eating do not have. Make them from surimi – the most minced
cheap white fish. After repeated washing and processing such
minced meat has absolutely no taste, therefore, it is added
monosodium glutamate, and that the raw material does not spoil, also preservatives.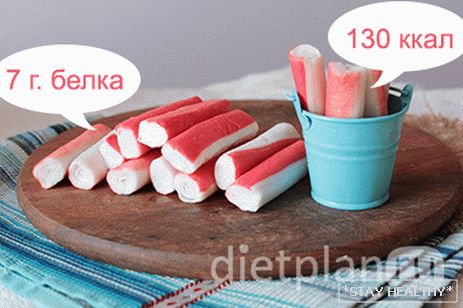 The white mass becomes juicy, tasty, but still looks a little
resembles crab meat, so it is painted – put
red-orange stripes. Crab sticks are obtained. Or how
finely written on the packaging, imitation.
As you already know, for a healthy diet such
industrial processed products are not suitable. Everything, that
processed, cooked, filled with additives and packaged on
factory, there is not worth it. But if you have 15 kg of excess weight, and your
the primary task is to switch to low-calorie protein food,
then between the bun and crab sticks you are definitely better
pick sticks.
It is a pity that the protein in crab sticks is not enough. B 100
grams, usually from 3 to 12 grams of protein, depends on the brand, on
was added to the production of soybeans, eggs and TP. On average, 100 gr
Crab sticks contain no more than 7 grams of protein. For comparison, in
whole cod as much as 20 grams of protein per 100 grams. The same in lentils.
And in chicken breast and even more – 30 grams of protein per 100 grams.
Lentils, fish and chicken should be eaten for lunch and chopsticks
Use for non-calorie snacks. Of course, surimi is not
especially useful, but when losing weight is definitely better than
sandwiches, pies and cookies.