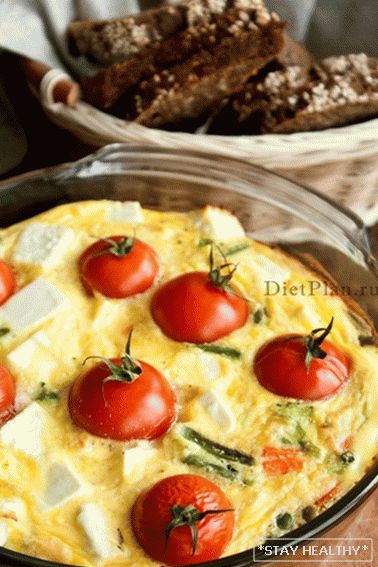 Option light lunch. Air pudding with an abundance of vegetables and
pleasant cheesy note.
Ingredients
(for 4 servings)
– 3 large eggs – 1 protein – 120 g of natural yogurt without
additives – 1 tbsp. corn starch (with a hill) – 1 tbsp.
wholegrain flour – 400 g of vegetable mix (can be frozen) –
1/2 tbsp. olive oil – 70 g of feta – 200-300 g of cherry tomatoes
– salt, pepper to taste
Recipe
1. Fet cut into cubes. Vegetable mixture to defrost and extinguish
in 1 tbsp. oils until ready (5-7 min.)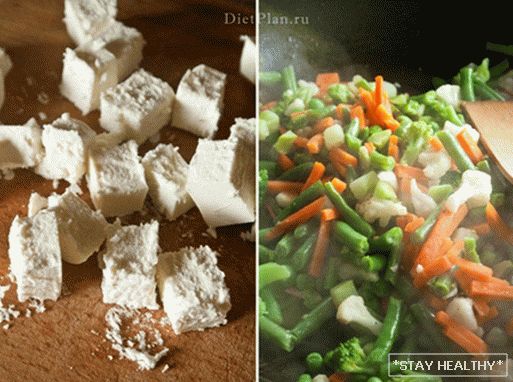 2. Яйца и protein взбить до пышной пены. Add yogurt,
salt and pepper, beat again. Sift into the egg mixture and starch
flour, mix gently with a whisk.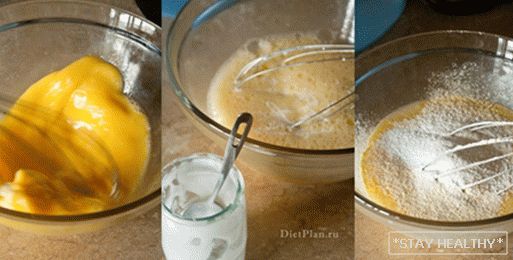 3. Put the vegetable mixture in the heat-resistant form, pour the egg
by weight. Top with feta cubes and whole cherry tomatoes,
slightly pressing them into the mass.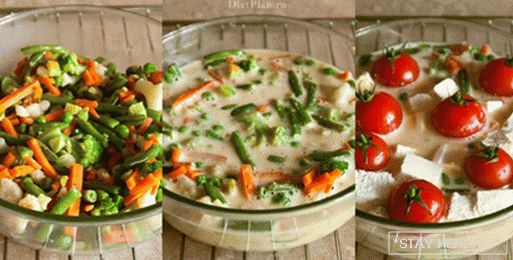 4. Bake in preheated oven to 200 ° C until cooked,
25-30 min. Cool, cut into 4 servings and serve.
Enjoy your meal.
Calorie content
| Ingredients | amount | B / F / U | Kcal |
| --- | --- | --- | --- |
| large egg | 3 pcs. (195 g) | 24.6 / 20.5 / 2 | 302 |
| natural yoghurt | 120 g | 4.5 / 4 / 5.5 | 73 |
| protein | 1 PC. (33g) | 3.6 / 0 / 0.3 | 17 |
| corn starch | 1 tbsp. since (35 g) | 0/0 / 30,6 | 131 |
| whole grain flour | 1 tbsp. (9g) | 1/0 / 6.5 | 31 |
| Vegetable mix | 400 g | 11.4 / 0.6 / 52 | 260 |
| olive oil | 1/2 tbsp. (7g) | 0/7/0 | 70 |
| Chees Feta | 70 g | 10/15/3 | 185 |
| Cherry tomatoes | 300 g | 3 / 0.6 / 12 | 54 |
| Total (4 servings) | | | 1123 kcal |
| 1 portion | | | 280 kcal |
| 100 gr | | | 96 kcal |
This recipe from the category
Quiches, Feta, Eggs