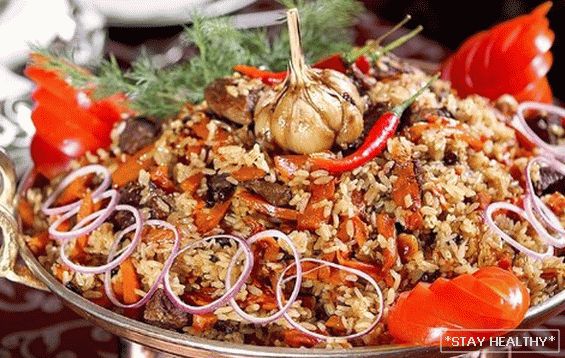 Pilaf is a familiar dish with a huge amount
recipes. With nothing they cook it! All over the world love the fragrant
and loose Uzbek pilaf. But he is not inferior in taste
pilaf from Azerbaijan. Is there any difference between these
dishes?
Rice for Azerbaijani pilaf
Only Azerbaijani pilaf suggests pre-boiling.
rice in a separate bowl. Uzbeks would come from such a technology
sheer shock would be considered a huge mistake. They cook rice together
with zirvak (a mixture of meat with vegetables, spices, broth). But
Azerbaijanis are confident in their technology, because it allows
get an incredibly tasty and flavorful dish.
Features cooking rice:
The grass before use is washed several times.
water clarity.
If uncleaned varieties are used, it is also soaked.
before cooking for at least an hour. Salt is added to the water to
rice is not cracked and retains its shape.
Pakistani rice, for example, Basmati, soaking does not require
it is enough just to rinse thoroughly.
Washed or soaked rice is poured into a pot of water,
cook until half ready. Liquids take a lot, do not count
need to. The time depends on the variety used. To absolute softness
доводить не need to.
Boiled rice is sent to a colander, washed with running water,
mixed with butter and spices, brought to full readiness.
Very often, apart from cooking rice
a special cake or stratum participates in Azerbaijani swim
from the test. It is called "Kazmag". It is not present in all
recipes, sometimes replaced by potatoes or other vegetables.
Rice in Uzbek pilaf
Uzbek plov is cooked with different varieties of rice, but they choose
large grass. It is never cooked separately, it is considered rude.
by mistake.
Features of preparation:
Wash rice with cold water until liquid is
will become completely transparent. Believed to pour and drain water
need seven times.
Sometimes rice is soaked or scalded with boiling water, it depends
recipe and variety.
The amount of water is strictly observed. Liquid is measured
level, it usually covers products on two fingers. If cauldron
non-standard size, then the proportions are 1: 2 or
1: 1.7.
Rice with meat in a cauldron never stir. This is done only
with a ready dish.
Crispness is appreciated in both Uzbek and Azerbaijani pilaf.
These dishes are very similar. If you take a handful of rice and squeeze it in your hand, it
should not stick together.
Azerbaijani stuffing is something
In addition to the method of cooking rice, Azerbaijani plov
different from the Uzbek fellow stuffing. It is not always beef
or lamb, although with them you can also make a famous dish. AT
Azerbaijani cuisine there are very non-standard and
original solutions.
What is added to Azerbaijani plov:
various birds, including game;
dried fruits;
nuts;
pumpkin;
smoked or fresh fish.
Often mixed different products. Of course, in the dish are present and
vegetables. Carrots are not so honored as in other types of pilaf,
it is often not used at all. No wonder in Azerbaijani swim
there will be garlic, laurel, various spices, always added
greens and in large quantities. And an important ingredient is refueling
is butter.
By the way, Azerbaijani pilaf is usually cooked at home.
it is an everyday dish. It is rarely seen in restaurants. If his
there and order, then mostly tourists. Uzbek plov is
a festive dish many people can't live without
торжества.
Classic Azeri lamb pilaf
Since Uzbek pilaf is cooked with lamb, for comparison
The recipe of this dish is based on Azerbaijani technology. In addition to meat and
rice is used potatoes, will also need dried fruit. But это
not the only differences.
Ingredients
1 kg of mutton;
2 cups long rice;
6 onions;
80 g greenery;
4 potatoes;
olive oil;
100 g raisins;
100 g dried apricots;
turmeric, thyme;
150 grams of butter.
Cooking method
ATымыть рис, засыпать в кипящую соленую воду, размешать.
Boil after boiling for 7-8 minutes, try. He must
stay slightly firm. Drain in a colander, rinse.
Peel the potatoes, cut into large pieces and place in the bottom of the pan.
Vegetable will not let plov burn. We try to fill all the voids.
ATысыпать половину риса на картошку, полить 70 граммами
melted butter. ATысыпать оставшийся рис, добавить
the rest of the butter, sprinkle with turmeric, cover. Boil an hour on
minimum heat.
Fry the diced lamb in olive oil. Meat
shift to another bowl. AT эту сковороду влить 0,5 стакана
boiling water, stir and pour everything to the meat.
Cut the onion half rings, send to the lamb. To add
greens, spices, stir and simmer for 40 minutes.
Wash dried fruits, add to almost finished meat.
Dried apricots can be cut or left in this form. Add more salt if a
need to. Stew with meat for another half an hour.
ATыкладываем на тарелки рис, затем сверху приготовленную
lamb with dried fruits, served to the table.
Here the rice is cooked to the end separately, but sometimes it is poured to
meat, give a little stew together.
Classical Uzbek pilaf
Many people know this recipe. ATсе-таки узбекский плов
famous all over the world. AT классическом варианте он делается
lamb and fat tail.
Ingredients
1 kg of mutton;
0.2 kg fat tail;
3 heads of garlic;
5 onions;
5 carrots;
1 kg of rice;
Zira, saffron and other spices.
Cooking method
Dice bacon, fry, bacon throw.
Fall asleep in fat onion, cut into half rings. Cook until rosy
color and enter the lamb. Fry a few minutes with meat.
Cut the carrot into strips, in no case do not use the grater.
Add to the meat with onions. Give a little fry, we introduce spices,
well salt, pour boiling water. Stew for at least an hour. AT идеале –
bring the lamb to soft.
Wash rice several times. From the heads of garlic remove the top
слой шелухи, очищать и отделять зубчики не need to.
ATсыпаем рис в зирвак, втыкаем головки чеснока и заливаем
boiling water so that the water covers the products on two fingers.
Cover cauldron and we dawn plov for 30-40 minutes. Then give the same
stand him up
---
As you can see, the dishes are really prepared by different
ways, have their raisins (sometimes in the direct meaning of this
words), but the result in any case pleases. Fragrant and crumbly
Plov can be tasted both in Uzbekistan and
Azerbaijan