It is already warm enough outside and you can pamper yourself with necks!
Such delicious, fragrant, fresh!
Necks are mixed cocktails made from several ingredients.
Cooking is incredibly easy and fun. Most often necks do with
the addition of dairy products, fruits, berries and ice. Sometimes
There are necks on the basis of ice cream.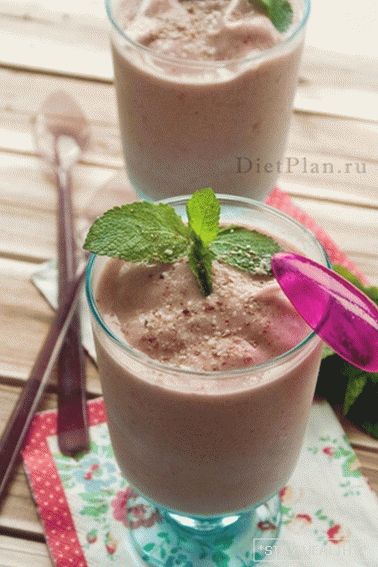 It is best to use natural yogurt. I do yogurt by myself
using a special device – yogurt maker. It turns out home
delicious yogurt, no sugar, no preservatives or other nastiness, which
stuffed with factory yogurts.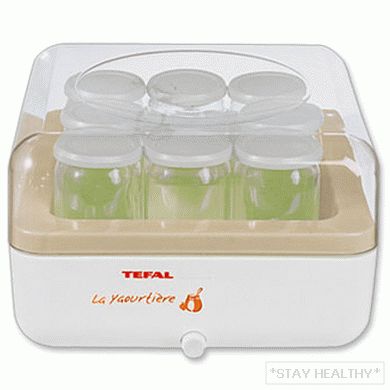 Cooking yogurt in such a device is very simple. Need to warm up
milk to room temperature, add leaven (you can buy it
in supermarkets or in a pharmacy or a jar of natural yogurt
(Greek) without additives, stir, pour into jars, put
in yogurtnitsu, turn on the device and leave for 8-12 hours.
If you do not have such a device or you do not plan to buy it,
buy in the supermarkets only natural yogurt without additives,
You can still find the name – Greek.
Ingredients
(for 2 servings):
– 1.5 bananas – 300 grams of frozen strawberries (I take frozen
strawberry puree) – 500 grams of natural yogurt * – mint leaves,
ground almonds for decoration
* you can take milk or kefir instead of yogurt. From what
the dairy product you will use depends on the consistency
future neck.
Recipe
Banana peel and cut into circles. Fold in flat
container and put in the freezer for at least 2 hours.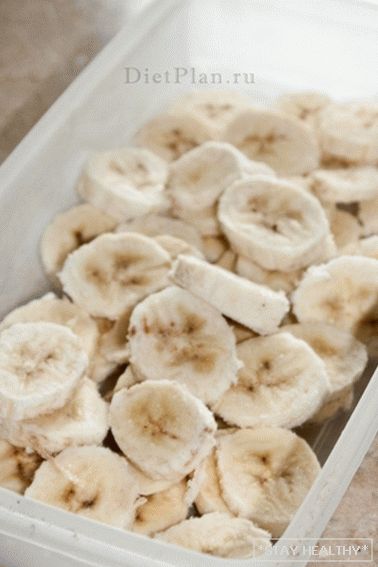 Fold the frozen banana in a blender, add the frozen
strawberries and pour yogurt.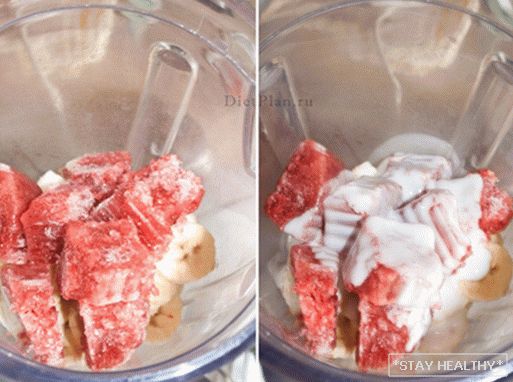 Grind in a blender until a smooth cocktail. If nessesary,
Add more yogurt or milk. Shake consistency should be
pretty thick.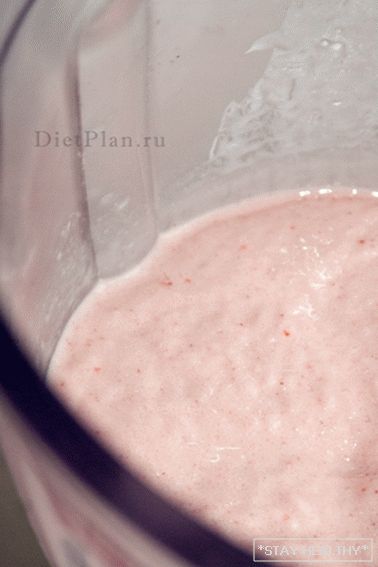 Pour into tall glasses, decorate with mint leaves and ground.
almond Serve immediately.
Enjoy your meal!
P.S. In the strawberry season, use fresh berries. Add to heat
in the necks of ice cubes. Optionally cook such a shake with other
berries – for example, with raspberries and blueberries.
Calorie content
| Ingredients | amount | B / F / U | Kcal |
| --- | --- | --- | --- |
| banana | 1.5 pcs. (180g) | 1.5 / 0 / 41.5 | 160 |
| frozen strawberries | 300 g | 1.2 / 0.3 / 27.3 | 105 |
| natural yoghurt | 500 g | 17.5 / 16.5 / 23.5 | 305 |
| Total (2 servings) | | | 570 kcal |
| 1 portion | | | 285 kcal |
| 100 gr | | | 57 kcal |
This recipe from the category
Bananas, Necks and Smoothies