This salad is an alternative to the classic "cherry + avocado + shrimp".
Try it, I think many people will like this option even more.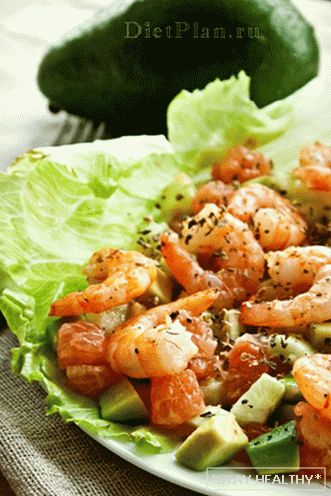 Ingredients
(2 servings)
– 125 g fresh-frozen shrimp, defrost – 1/2 avocado – 1
cucumber – 1/2 grapefruit – several large leaves of lettuce for
feed (romain or iceberg) – ready-made mixture of Provencal herbs
(sold in a store in the spice department) – freshly ground pepper –
sea ​​salt – olive oil
Recipe
1. Cucumber, avocado peel and cut into small
cubes. Peel grapefruit and peel films, cut into small
cubes. Juice that stands out, collect in a bowl.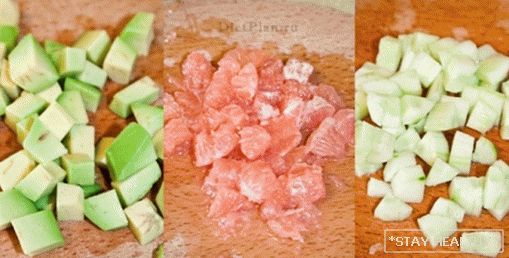 2. Put cucumber, avocado and grapefruit into a bowl with juice.
Add a pinch of salt, pepper and a little olive oil. Good
mix. Put one large sheet on plates
salad dressing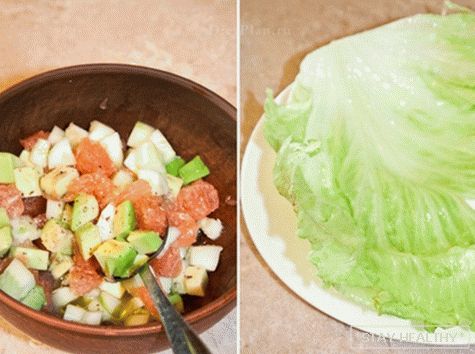 3. Fry the shrimps in a pan, brushing it with a brush
a small amount of olive oil until golden brown.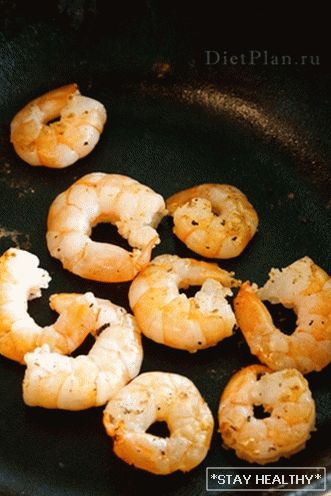 4. Put sliced ​​vegetables on a leaf of lettuce, on top of shrimp,
Sprinkle with olive herbs.
Enjoy your meal!
Calorie content
| Ingredients | amount | B / F / U | Kcal |
| --- | --- | --- | --- |
| shrimp | 125 g | 26/1/0 | 124 |
| avocado | 1/2 pcs (100 g) | 2/15/9 | 160 |
| cucumber | 1 PC. (130g) | 1/0/5 | 24 |
| grapefruit | 1/2 pcs (130g) | 1/0/10 | 42 |
| olive oil | 2 tsp (10 g) | 0/8/0 | 72 |
| Итого (2 servings) | | | 420 kcal |
| 1 portion | | | 210 kcal |
| 100 gr | | | 85 kcal |
This recipe from the category
Блюда с avocado, Диетические салаты, Креветки, Рыбные блюда