Holidays – not a reason to stop losing weight or
gain new weight reset. You can spend New Year's Eve
tasty and unlimited if you set the table correctly. Here
collected the most interesting dishes, as well as given the tricks of design,
calorie-reducing recipe sauce for any
salads.
Breast "Sorceress" with tomatoes and cheese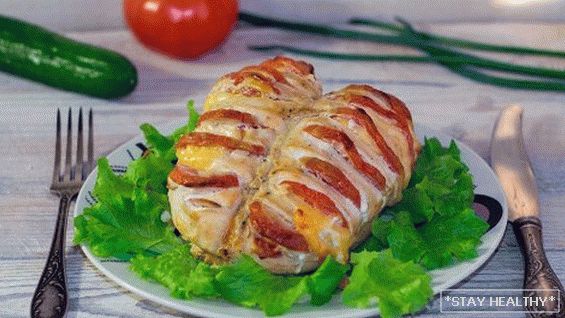 Even if the breast is already tired, this dish will change the attitude to
favorite product nutritionists. Chic cooking method.
Not much time is needed. And the products are even smaller.
Choosing low-fat cheese, so as not to greatly increase
calorie content.
Ingredients
4 chicken fillets;
2 tomatoes;
120 grams of cheese;
3 spoons of yogurt or cream 10%;
salt;
1 tsp. curry seasonings;
1 tbsp. l soy sauce.
Cooking method
Mix with natural yogurt soy sauce, curry or any
another seasoning for chicken, salt.
Cut the washed fillet across every 0.5-1 cm. Grate
chicken cooked sauce. You can leave to pickle, will
even better.
Tomatoes take a small diameter or cut in half, and
then platter cheese, rubbed. We put in slices fillet
tomatoes, add a little grated cheese.
We put the fillet on the foil, we also cover the top. Cooking 20
minutes at 200 degrees.
Open the fillet, give the breasts to slightly roast, about 10-12
minutes Then we shift on plates, we decorate with olives,
supplement with fresh cucumbers, greens.
If, however, the presence of cheese is embarrassing, the product is not the most dietary,
you can cook this breast just with vegetables, besides tomato
use pickles, eggplant, is amazing with
mushrooms.
Turkey Roll with Prunes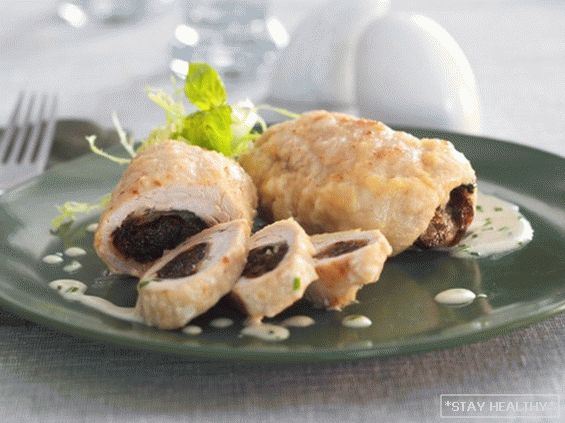 The recipe for a chic poultry dish. It can be served hot.
the form or make in advance, cool, cut into a meat plate.
For rolls used turkey fillet. With chicken breast too
cook, but the rolls are smaller, as cutting is done
across the fibers.
Ingredients
600 g turkey fillet;
200 g of prunes;
2 cloves of garlic;
100 ml white yogurt;
salt pepper.
Cooking method
Pour the prunes with hot water, leave for half an hour so that it
well swollen. If this is not done, the dried fruits will begin to pull out.
moisture fillet, this can not be allowed.
Mix 50 g of white yogurt with minced garlic and add
salt, pepper. Swollen prunes cut into pieces, you can not
shallow. Or just break it in half.
Turkey fillet must be cut in pieces across the centimeter across
fibers and carefully beat off with a hammer. Pieces will increase in diameter.
We spread them in front of us, we smear yogurt with spices.
We decompose prunes, we twist rolls. To save the form
fix the free edge with a toothpick. We shift in the form.
Lubricate the rolls on top of yogurt. But you can replace the lean
sour cream. We bake half an hour at 200 degrees.
These rolls are very tasty and can be obtained with dried apricots inside
add chopped walnuts. For a spectacular view on the table, in
As a substrate we use lettuce sheets.
Salad "Olivier unconventional"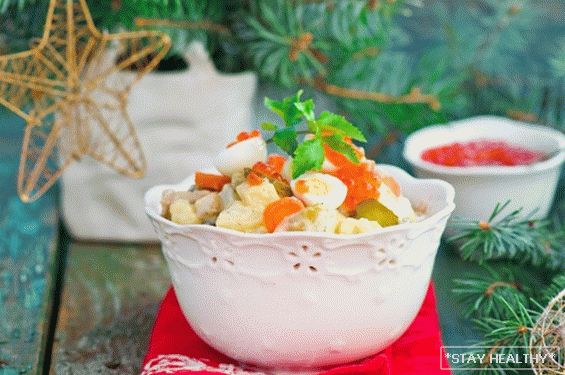 What a festive table without Olivier salad? It can
cook for a variety of recipes, here is an option for slim
figures. In addition to the ingredients, an amazing recipe is also given.
the sauce. It can be used in any salads and perfectly replaces.
harmful mayonnaise. It is important to buy thick Greek yogurt, then nothing.
will not flow.
Ingredients
5 eggs;
0.5 can of peas;
2 fresh cucumbers;
1 onion;
300 g chicken;
1 carrot;
0.5 bunch of dill.
For the sauce:
200 grams of Greek yogurt;
1 tsp. lemon juice;
0,2 ч. l black pepper;
1 tbsp. l soy sauce;
salt;
1 tbsp. l mustard
Cooking method
Boil chicken. You can take the fillet or thigh, the skin for the salad is not
use. Cool, cut into small cubes.
Eggs and carrots also cook. For salad use only
squirrels. Cut with carrots, send to the chicken.
Crumble finely onions. Fill with boiling water for 10 seconds, pour into
colander. We combine with the main products, we introduce peas,
sliced ​​cucumbers.
We make sauce from the listed ingredients, salt to taste. If a
mustard spicy, then reduce the amount.
When serving, fill up the salad. We do not lay out all the sauce,
look at the consistency, decorate with dill.
Jellied "Fairy Tale" fish with peas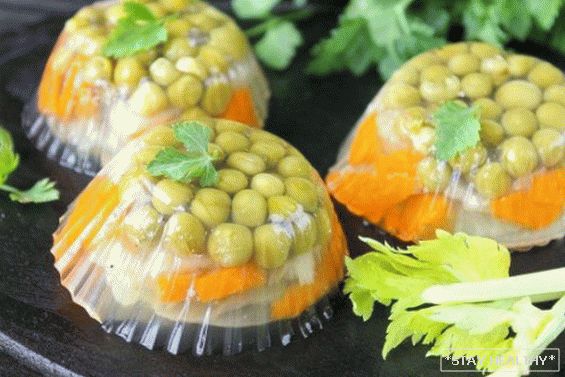 Very beautiful, useful and easy to cook aspic. For
Broth use any fish to your liking. For наполнения берем
salmon, go salmon, chum salmon, pink salmon.
Ingredients
200 g salmon;
500 ml of fish broth;
1.5 Art. l gelatin;
3 tbsp. l peas;
3 quail eggs;
greens, spices.
Cooking method
Boil eggs and salmon, cool. Cut the fish into large ones
diced eggs halves. Broth can be cooked on request
carrot, it will add brightness.
Soak the gelatin in 100 ml of broth. After swelling heat up
Mix with the remaining broth, salt to taste. Pour out a little
(layer 5 mm) in a salad bowl or a plate for aspic, pour green
peas. Cool to freeze.
Place fish and eggs on the first layer, add sprigs
greenery. Pour the remaining broth. Remove for 4-5 hours in
fridge.
The composition of this filler can be changed. Red fish is great
combines and corn. And the perfect complement is citrus. Lobule
lemon or figurally sliced ​​orange immediately attract
Attention.
Squid "Pig" stuffed with mushrooms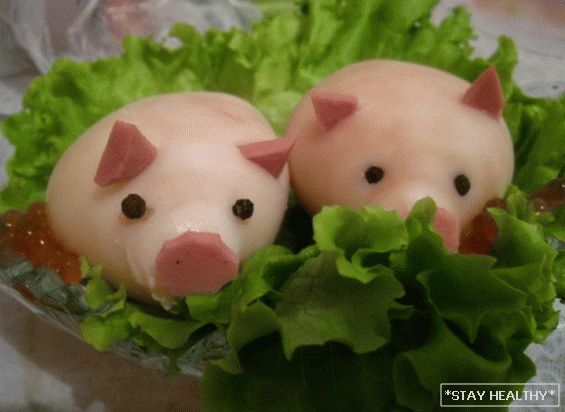 An unusual, beautiful and tasty dish, which is also not yet
spoils the figure. For приготовления потребуется один большой кальмар.
Stuffing of mushrooms. For украшения нужен кусочек помидора, горошки
pepper, toothpicks.
Ingredients
1 squid;
5 champignons;
50 grams of cheese;
20 ml of oil;
2 eggs;
0.5 onions;
2 tablespoons sour cream;
80 ml of water;
greens, salt.
Cooking method
Pour squid with boiling water. After 20 seconds, clear. With fins
cut two triangular pieces, it will be piggy ears.
Fry onion, add chopped champignons, cook 10
minutes Enter one spoonful of sour cream and grated boiled eggs, cheese,
spice.
Fill the squid carcass with the filling. Pinch the hole.
Put it on a baking sheet, close ears. Grease squid
sour cream, bake 15 minutes, no more.
Making holes with a knife, inserting ears, sticking eyes out of
peppercorns. Piglet make from tomato, fix a piece
toothpicks. Укладываем поросенка на лужайку из greenery.
If a кальмары мелкие, то можно сделать несколько поросят.
Charming company will be the main decoration of the New Year
the table.