Muesli bars are a popular snacking tool for people who
monitor their health and instead of a regular chocolate bar
seeking to send in your mouth something useful and less calorie.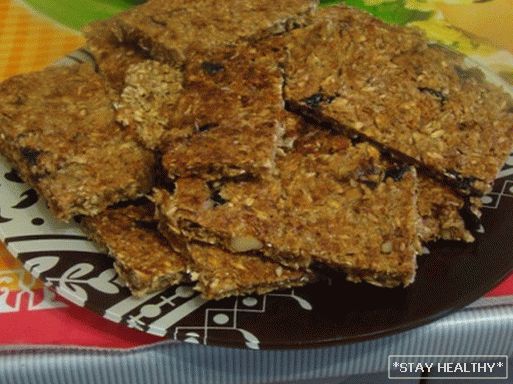 Muesli bars can be made independently, then you will definitely
be sure of their naturalness and usefulness. In addition, the case is
uncomplicated:
Ingredients:
– rolled oats – 2 glasses – large apple 1 pc. – carrots 1 pc. –
banana (as ripe as possible) – a small handful of chopped walnuts
– a small handful of dried apricots, prunes or any other dried fruits
– 2 tbsp. honey
Recipe
We rub apple and carrot on a large grater, mash banana in mashed potatoes,
finely cut the dried fruit. Mix all ingredients in a bowl until
the consistency of thick dough, mnem by hand, so that the juice from the apple and
carrots soaked rolled oats and everything else, and the banana evenly
distributed
Lay out a layer of about 1.5 cm on a baking sheet, laid
parchment paper. Align the edges. Bake at temperature
180 gr. until ready (slightly browned, dry outside,
inside – gently). Gently chop hot for portions
the pieces.
Calorie content
| Ingredients | amount | B / F / U | Kcal |
| --- | --- | --- | --- |
| hercules flakes | 2 glasses on 100 gr | 25/15/135 | 750 |
| large apple | 1 PC | 0.5 / 0.4 / 32 | 120 |
| carrot | 1 PC (75 г) | 0.7 / 0/7 | thirty |
| banana | 1 PC | 1/0/27 | 105 |
| walnuts | 50 g | 12/thirty/5 | 310 |
| prunes | 40 g | 1/0/24 | 100 |
| honey | 2 tbsp. | 0/0/50 | 180 |
| Total (8 servings) | | | 1600 kcal |
| 1 piece (106 g) | | | 200 kcal |
| 100 gr | | | 190 kcal |
This recipe from the category
Oatmeal