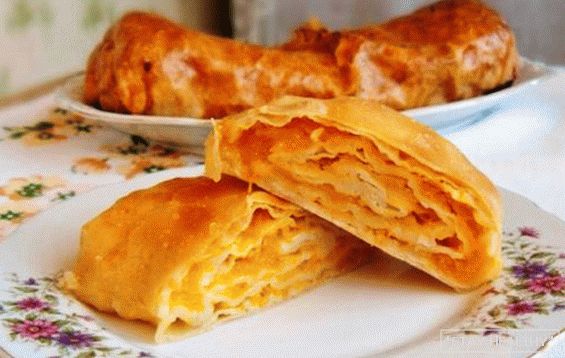 Вт, 04 окт 2016 Автор: Марина Выходцева
Placinda – Moldovan tortillas.
Although, you can safely call it a pie, someone like
like.
The peculiarity of this dish is toasted crust from
unleavened dough and delicious filling.
What do we cook with?
Placida Moldavian – general principles of preparation
For the plate, you can use fresh dough on water with salt and
a little oil. For softness, it is sometimes added.
baking soda. You can knead the dough with kefir. It turns out
softer cakes, the taste is also different.
What is the traditional platzinda:
• cottage cheese, cheese;
• potato;
• cabbage;
• pumpkin.
Increasingly, you can find recipes with minced meat, cereals,
mushrooms. Greens, various spices, pickles are added to the fillings.
Plastins are sculpted from thinly rolled dough. Usually shaped
large, flat envelope. Fry one product at a time.
pan. Since meat is often prepared from raw vegetables, you need
bring the dish to full readiness. For this fire do
moderate, if necessary, after turning the pan
cover up.
Moldavian pasta with cottage cheese and greens
The recipe is very fragrant, nourishing, easy to prepare.
Moldavian placinda. Cottage cheese can be used any, but not liquid.
The dough is cooked fresh on the water.
Ingredients
• 50 ml of butter (1 scoop per dough);
• 200 ml of water;
• 400 g of flour.
For filling:
• 500 g of cottage cheese;
• 1 bunch of onions;
• 1 bunch of dill;
• 2 raw eggs;
• salt.
Cooking
1. The test will need to rest for about twenty minutes. Can it
knead in advance, put in the fridge. Mix warm water with
with a spoon of butter and a pinch of salt, add flour, cook fresh
dough. Stir thoroughly until uniform.
2. For the filling you need to mix the grated curd with minced
dill, onion, add eggs and salt. Lovers of sharp
dishes can add a little pepper.
3. Divide the dough into seven identical pieces, roll them out.
first balls, then flatten into small lozenges, grease
oil, lay on each other.
4. After five minutes, oil the table with oil, take one cake and
roll out as thin as possible, the formation should shine through. Bend over
edges to make a square.
5. Put the stuffing in the middle of the cake, making it smaller
square. Roll the envelope. Similarly, form the platinum from
the remaining dough with the filling.
6. Fry the formed products in the pan, make fire
moderate, no need to add oil.
Placida Moldavian with pumpkin
Рецепт сочной и нежной Moldavian placinda. Dough for her
Knead on kefir. Stuffing from fresh pumpkin. And stuffing can
make it salty or sweet.
Ingredients
• a glass of kefir;
• 100 g of oil;
• 1 egg;
• 2.5 Art. flour;
• pinch (0.3 tsp.) Soda;
• 0.5 tsp. salt.
Filling:
300 g pumpkin,

4 tsp. Sahara,

щепотка salt.
Cooking
1. Dissolve soda and salt in warm kefir, add egg,
взболтайте и замесите dough. Flour should go all. If kefir
liquid, you can add some more. Put the dough under the cup.
2. Melt butter, cool it down.
3. Grind pumpkin on a coarse grater. Add sugar and salt.
If you are cooking salty platzinda, you can sprinkle pepper and other
spice. In the sweet dish, you can add more sugar.
4. Divide the dough into four equal parts, roll the balls.
5. From each piece roll out a flat cake with a rolling pin.
forms, smear half with melted butter, cover with dry
by half.
6. Теперь снова смажьте одну часть и накройте сухой by half.
Get a bundle of four layers, resembling a triangle.
Bend it in half to get 8 layers, bend the spout.
Let lie a piece for a couple of minutes, roll it into a rounded
flat cake.
7. Put the stuffing, blind envelope.
8. Fry the pies in a skillet with butter until ruddy color.
We stack them on each other, cut them into slices, like a pie
or pizza.
Placida Moldavian with potatoes
A variant of the national Moldavian dish with potato filling.
The dough is prepared fresh on the water with the addition of a small amount
soda Potatoes are laid raw.
Ingredients
• 130 ml of water;
• spoon of butter;
• 1,3 стакана flour;
• a pinch of salt;
• щепотка soda
Filling:
• 170 g of potatoes;
• salt pepper;
• some oil;
• parsley.
Cooking
1. From flour with water, salt and a pinch of soda to knead the dough,
gradually add the vegetable oil drop by drop. Remember well
leave for a while to rest.
2. Divide the dough into three pieces, roll into small
cakes, leave on the table.
3. Slice the potatoes into thin slices, you can use
float. Add some oil to make the filling juicy,
pepper, salt. Season with parsley.
4. Let's go back to the test. Lubricate and roll flat cakes, stretch your arms
in different directions.
5. Arrange the stuffing from the potato in the form of a square, blind
big envelope.
6. Put the plate in the heated pan. At first
fry from the side of the seams, five minutes is enough. Then need
gently flip. Do not make a big fire, otherwise the filling
will remain raw.
Placida Moldavian with cheese
Option simple Moldavian plitstsy with cheese. More in the stuffing
nothing is added. If you wish, you can throw a little
chopped greens.
Ingredients
• glass of water;
• 500 г flour;
• 4 spoons of butter;
• a pinch of salt;
• 400 g cheese.
Cooking
1. Cook ordinary unleavened dough in water with salt and
one teaspoon of oil. Divide into 6 pieces, let lie
Ten minutes.
2. Grease each piece with butter, make small lozenges,
Fold in 2 pieces.
3. Ten minutes later, roll each cake very thin.
You can stretch your arms. Just get three pieces.
4. Chop the cheese in a convenient way, pepper it if desired,
mix with greens.
5. Form rectangular products.
6. Fry the plate on both sides until a beautiful crust.
Placida Moldavian with cabbage
Another recipe for delicious Moldovan cakes. Stuffing in this
Option prepared from sauerkraut. Similarly, you can
use minced roast or braised cabbage. Dough is being prepared
on water with soda.
Ingredients
• glass of water;
• 1 pinch of soda;
• salt;
• 2 spoons of butter;
• 3 cups flour.
For filling:
• onion head;
• 700 g cabbage.
For the cutting will need vegetable or melted cream
butter.
Cooking
1. On warm water, prepare the dough, do not forget to add to it
soda and some vegetable oil. These ingredients will not allow
products get tough.
2. Cover the dough, leave for 30 minutes.
3. Press cabbage from brine.
4. Crumble onions, shift to the pan, fry in oil
minute, add squeezed cabbage. After five minutes, remove the filling
cool off.
5. Divide the dough into 7-8 small pieces, round to
balloons.
6. Из каждого кусочка раскатайте flat cake. Desirable thin.
7. Spread the cabbage filling, blind ordinary envelopes,
fry in oil for three minutes on each side.
Moldavian pastes with meat
For the filling used raw minced meat. Can be used
beef with pork or any other mixture, preferably with
adding fat. Then the cakes will be succulent.
Ingredients
• 500 grams of minced meat;
• 2 bulbs;
• 250 ml of water;
• salt pepper;
• 3-4 стакана flour;
• 5 tablespoons butter (1 per dough).
Cooking
1. Combine the recipe water with salt in a bowl, pour in a spoon
растительного масла, замесите dough. Flour will leave about three with
half a cup. Let the mass lie down for half an hour.
2. Chop finely onions. You can fry them, it is optional.
Mix with minced meat. The filling should be seasoned with spices,
mix.
3. Divide the dough into 5 pieces, roll out small cakes,
grease with a thin layer of oil, leave for five minutes. Once
flat cakes become softer, roll each one even thinner.
4. Spread the minced meat evenly between all the pads,
blind envelopes.
5. Fry products immediately. Since the stuffing is raw minced,
fire do not need strong. Cook items on each side not
less than four minutes.
Placida Moldavian with mushrooms and rice
Option flavored fillings for Moldovan cakes. Knead dough
prescription above. The amount of minced meat just counted on 5
lozenges.
Ingredients
• 120 grams of rice;
• 150 g onions;
• 200 g of mushrooms (champignons);
• масло, spice.
Cooking
1. Boil rice until ready, water should be drained. Cool it down.
2. While rice is being cooked, you need to peel and chop the onion.
Transfer to a frying pan, fry.
3. After a couple of minutes, cut mushrooms should be added to the onions.
Cook together to a ruddy color.
4. Combine mushrooms with boiled rice, add spices, salt.
You can add to taste fresh herbs, dry.
5. Blind 5 platinum, giving the shape of products ordinary
envelopes.
6. Fry the products on both sides in oil until tender.
Placida Moldavian – useful tips and tricks
• To prevent envelopes from opening during frying, spread
products in the pan need to first side with seams. Only after
this roast solid side.
• Placcinas are more tasty if roasted on cream
oil But the cakes on it quickly burn. Exit – make a mixture of
vegetable oil and butter.
• If the filling is juicy, for example, from pumpkin or potatoes, then
Sculpt envelopes should be alternately before the most hot. Otherwise thin
dough under the action of juices will limp, break through.
• Onions in the filling is prepared long enough, often bitter or
crunches. To prevent this, you can scald chopped vegetable
boiling water or lightly fry in a skillet.