Lazy dumplings are wonderful, healthy, fast, and most importantly,
tasty breakfast. Cooking dumplings will take no more time.
than cooking scrambled eggs.
The benefits of cheese for the body is very large. Cottage cheese and dishes from
it improves metabolism, and minerals in its composition
indispensable for strengthening bones and improving the work of the nervous
system. It contains many proteins, milk fats, salts
calcium and phosphorus (thanks to which the curd proteins are better than others
digested) and lipotropic (dissolving fat in the cells)
substances.
Towards a healthy lifestyle, the consumption of cottage cheese
extremely important. Its high-grade proteins and low in fat
allow the body to get enough. Low fat cottage cheese, for example,
contains about 18% protein and 0.6% fat.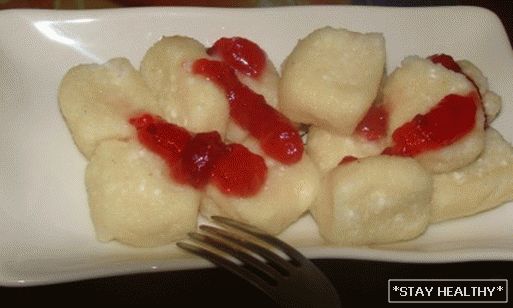 Ingredients
– chicken egg – cottage cheese 2% – semolina 3 tbsp. spoons with
a hill
Recipe
A pack of cottage cheese, 2 eggs, 3 tbsp. semolina mix everything and overnight in
fridge. And if in the morning they were kneaded, then mines at 20-25
freezer
Then sprinkle the table with the decoy and make curd of this mass
sausage, cut into small pieces and boiling water. Boil 5
minutes after boiling. You can pour the jam, and can be anything,
of course)
Calorie content
| Ingredients | amount | B / F / U | Kcal |
| --- | --- | --- | --- |
| chicken egg | 2 pcs | 12/10/2 | 155 |
| cottage cheese 2% | 180 g | 22/4/7 | 155 |
| semolina | 60 g | 8/1/44 | 215 |
| 1 banana | 1 PC | 1/0/27 | 105 |
| Total (4 servings) | | | 525 kcal |
| 1 portion (90g) | | | 130 kcal |
| 100 gr | | | 145 kcal |
This recipe from the category
Cottage Cheese Dishes