Salad with crab sticks, many cook with mayonnaise and potatoes,
so it turns out fat and calorie. If calories are important to you,
It's best to follow our recipe and recommendations to
get a really dietary meal.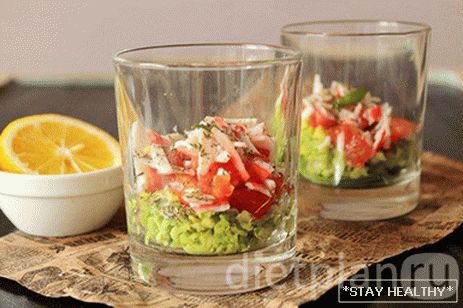 In terms of taste, this crab salad is delicious. In him
very harmonious combination of products, simple and useful
refueling.
Ingredients: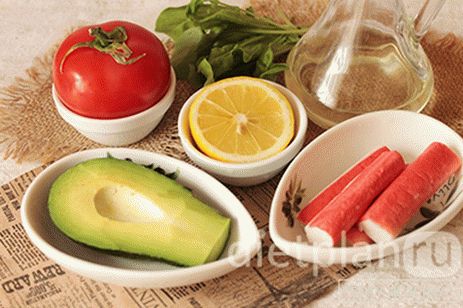 – Avocado – 0.5 pcs. – Crab sticks – 2-3 pcs. (meat is better
crab, if any) – tomato – 1 pc. – lemon juice – 1 teaspoon –
olive oil – 1 tbsp. Spoon – Garlic – optional
Diet crab salad. Recipe.
Peel avocados, grind with a blender or
mash potatoes Be sure to sprinkle gruel with lemon juice, so
she won't darken. Optionally added a clove (or even
half) minced garlic to make avocado taste more
pronounced. Salt in this case is also added at will and
to taste.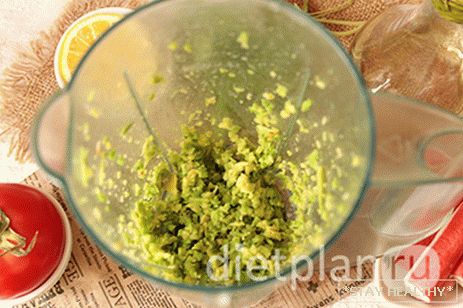 Now you need to prepare tomatoes Kankassa. Under this melodious
the french name actually hides very simple
actions, namely: remove the skin of a tomato, remove partitions from
seeds, cut with a knife "fillet" and cut it into small cubes.
And that's it!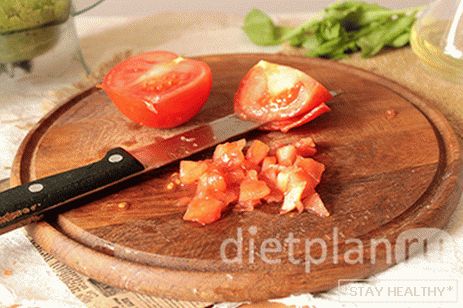 Ideally, this salad requires crabmeat, but during
crisis can be content with ordinary crab sticks,
which should be broken down into fibers or carefully cut with a knife,
so they looked like crab meat.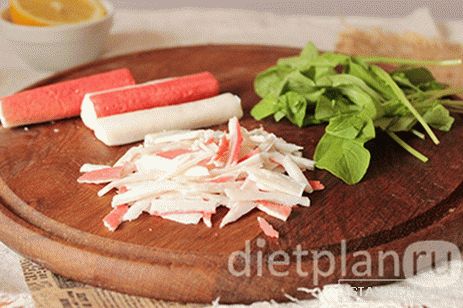 So, for a dietary salad ready mashed avocado, tomatoes
kankassa and crab meat. Salad layered in a glass or
ice cream – avocado, tomato, crab sticks.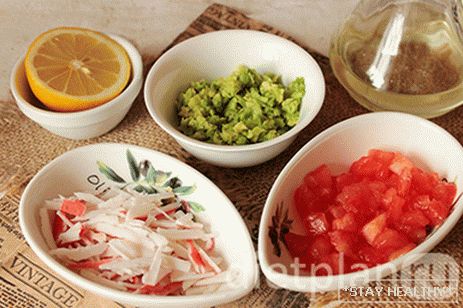 It remains to cook the dressing of olive oil and lemon juice.
Mix these ingredients and lightly season with pepper or dry.
herbs. Dress up the salad.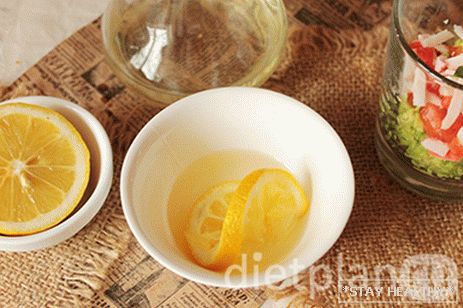 As for the filing of crab salad, here you can
be guided by personal taste – serve in clear glasses or
do the same with a culinary ring. To repeat submission to
cups, fold the ingredients in layers and pour the sauce.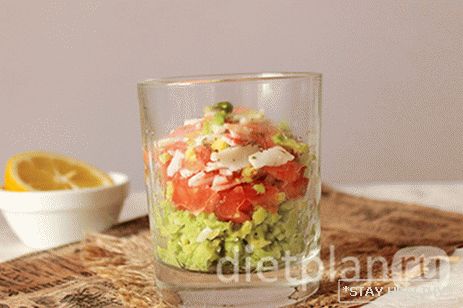 Dietary salad with crab sticks ready.
This recipe from the category
Fish dishes