If you have hot weather outside, then this light soup will become real
salvation! Refreshing, soft, with a delicate aroma of mint it will add
energy on sunny days. For cooking you will need only
blender and 3 minutes of your time.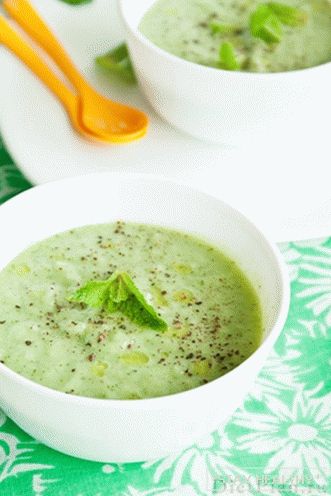 Readers of the site more than once asked to cook something with
avocado. I know that many people do not like him or avoid him in mind
calorie content. But do not forget, calories calories discord!
100 g of avocado contains 20 g of fat and 208 kcal. Despite
this, nutritionists believe that a small amount
Avocados added to meals every day will bring a huge
favor
How to store avocados?
When exposed to air, avocados begin to darken and lose
In order to avoid this, clean only the skin
part of the avocado you are using. Pulp of the remaining fruit
Smear with lemon juice and store in a closed container in the refrigerator until
moment of use. Try to eat it as soon as possible.
What you need (2 servings):
– 3 medium cucumbers – half an avocado – 2 sprigs of mint – 1
st.l. lemon juice or white wine vinegar – 1/3 ct cold
минеральной воды без газа – морская соль – свежемолотый
allspice
Recipe
1. Prepare and rinse the vegetables and mint. Peel the cucumbers and
peel avocado, remove bone from avocado. Mint leaves
separate from the twigs.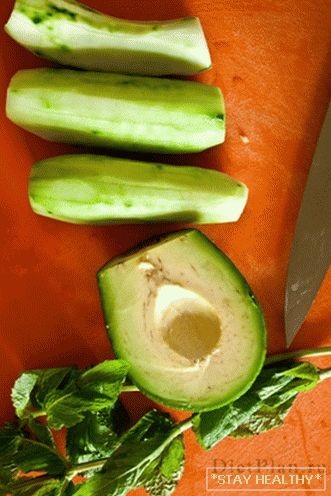 2. Slice large vegetables.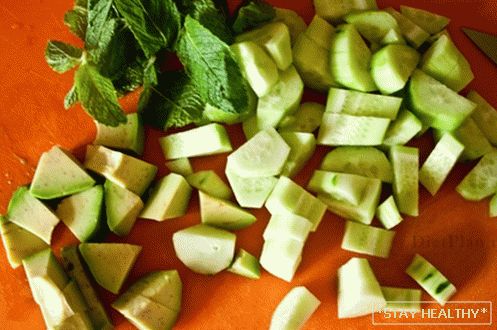 3. Fold everything in a blender (you can use both manual and
stationary), add lemon juice and salt to taste. Pure up
homogeneity. Add 1/3 c of water (or more to the desired
consistency).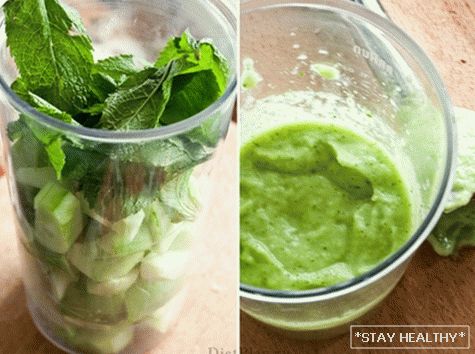 4. Arrange on pialam, garnish with mint leaves and flavor
ground pepper. Serve immediately or send another 10 minutes to
fridge.
Calorie content
| Ingredients | amount | B / F / U | Kcal |
| --- | --- | --- | --- |
| cucumber | 3 pcs. (400 g) | 3/1/14 | 72 |
| avocado | 1/2 pcs (100 g) | 2/15/9 | 160 |
| mint | 2 branches (10 g) | 0/0/0 | 0 |
| lemon juice | 1 st.l. (15g) | 0/0/1 | 3 |
| mineral water | 1/3 Art. (80g) | 0/0/0 | 0 |
| Total (2 servings) | | | 235 kcal |
| 1 portion | | | 118 kcal |
| 100 gr | | | 40 kcal |
This recipe from the category
Блюда с avocado, Вегетарианские блюда, Диетические супы, Зеленые
soups, cucumbers, soups