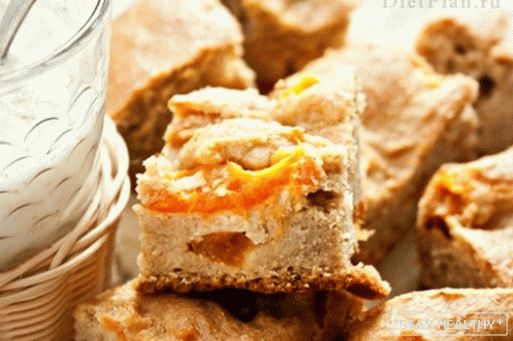 I am absolutely convinced that adhering to the principles of healthy
food, do not deny yourself in tasty. I, for example, very
I love baking and I can't live without it. However, apply
some tricks to extract even from a piece of cake
favor
The basis of today's recipe is oatmeal and coarse flour.
Grinding, and also cottage cheese. Very tasty and healthy.
Ingredients
(for 12 servings)
– 4-5 pcs. solid apricots – 1 tsp. butter – 1 tsp
brown sugar – 2 eggs – 1 tbsp. Honey – 1 tbsp. low fat
sour cream – 1/2 tbsp. wholemeal flour – 1/2 tbsp. oatmeal – 1/2
tsp корицы – 1/2 tsp soda – 125 g of cottage cheese – 1-2 tbsp. milk (by
wish)
Recipe
1. Wash apricots, remove bones and cut into slices.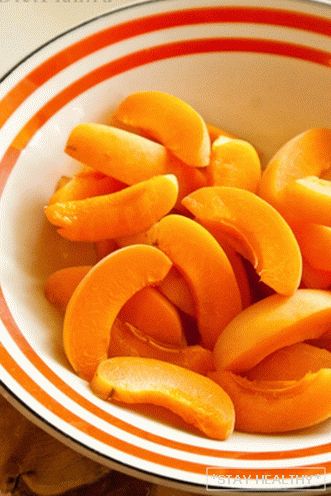 2. Heat butter with sugar in a pan until it starts.
form caramel.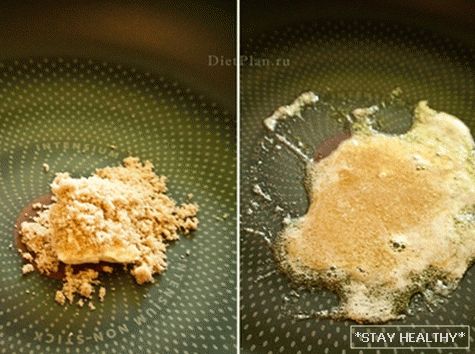 3. Add apricot slices and, stirring slowly, stew until soft
(about 3 min.). Put the apricots in a platter and let cool.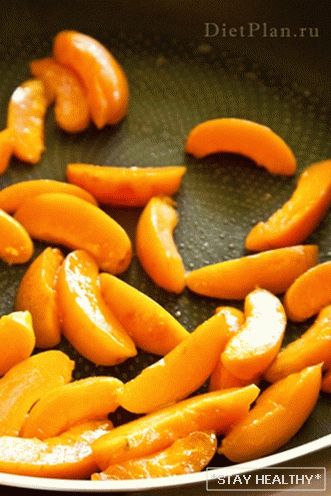 4. Beat eggs with honey and sour cream. Sift flour into egg mixture
with soda and cinnamon. Stir until a homogeneous dough.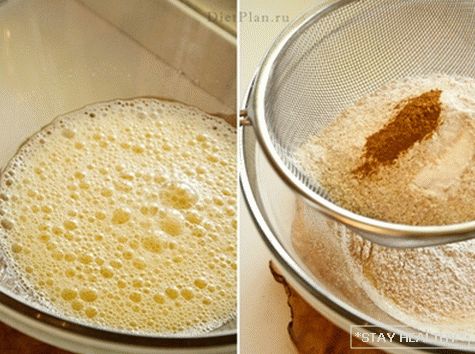 5. Добавить творог и еще раз хорошо перемешать. If dough
too tight, add a couple of tbsp. milk Consistency ready
The dough should be thick and fall into clods from a spoon. Add to the dough
apricot slices and mix well.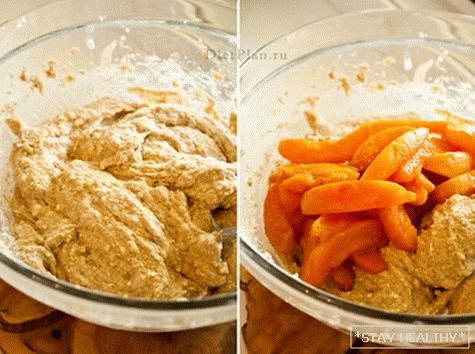 6. Cover the form with parchment, transfer the dough into it and
bake in an oven preheated to 180 ° C for about an hour. Readiness
Check with a toothpick or matchstick. Stick it in the middle of the pie,
it should be dry without lumps of dough on it.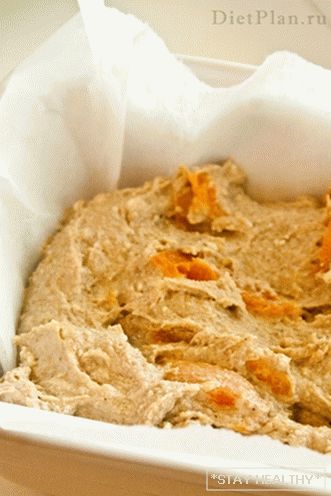 7. Cool the finished cake in the mold for about 5 minutes. Then shift
on the board, cut into squares and serve. Tasty is like
warm and cold.
Calorie content
| Ingredients | amount | B / F / U | Kcal |
| --- | --- | --- | --- |
| apricot | 5 pieces (250 g) | 4/1/28 | 120 |
| butter | 1 tsp. (5g) | 0/4/0 | 36 |
| Brown sugar | 1 tsp (4g) | 0/0/3 | eleven |
| egg | 2 pieces (100 g) | 12/10/2 | 155 |
| honey | 1 tbsp. (30g) | 0/0/25 | 90 |
| sour cream (15%) | 1 tbsp. (20g) | 1/3/1 | 36 |
| wholemeal flour | 1/2 Art. (65g) | 9/1/45 | 212 |
| oat flour | 1/2 Art. (65g) | 8/5/45 | 257 |
| cinnamon | 1/2 tsp (1 g) | 0/0/1 | 3 |
| soda | 1/2 tsp (3g) | 0/0/0 | 0 |
| cottage cheese (5%) | 125 g | 18/6/5 | 144 |
| milk | 2 tbsp. (30 ml) | 1/1/2 | 18 |
| Total (12 servings) | | | 1082 kcal |
| 1 portion | | | 90 kcal |
| 100 gr | | | 155 kcal |
This recipe from the category
Cottage Cheese Dishes, Baking, Diet Desserts, Oatmeal