This salad is incredibly useful and can serve as an option.
dietary dinner.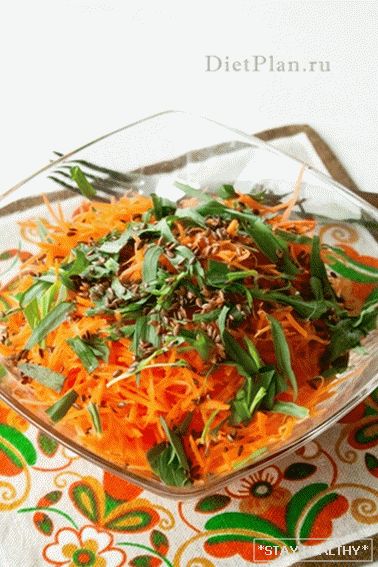 Simplicity is not only a sister of talent, but also a good figure. Than
The simpler our food, the easier it is absorbed in the body.
Ingredients
(for 2-3 servings)
– 2 large carrots (400 g net weight after cleaning) – 3-4
sprig of tarragon (tarhuna) – 2 tbsp. orange juice – 1 tbsp.
lemon juice – 1 tsp apple cider (can be replaced by apple
vinegar) – 1 tsp olive oil – freshly ground allspice –
2 tsp. семян flax
Recipe
Wash carrots, peel and grate on a coarse grater.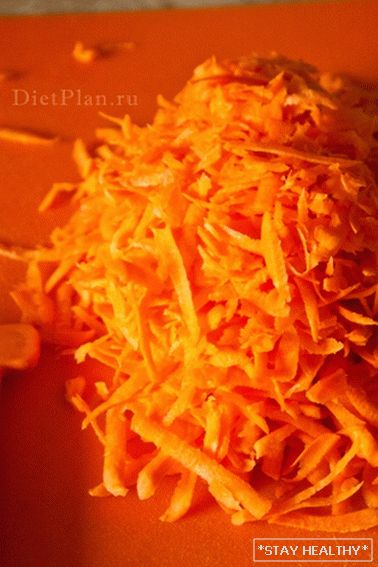 Mix in a small container the juice of lemon and orange, oil, cider
and pepper.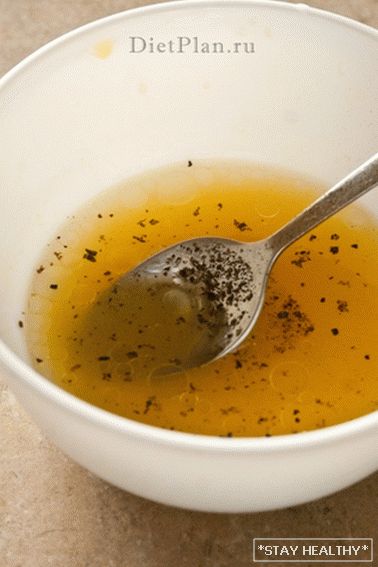 Separate the tarragon leaves from the twigs. Put in a salad bowl
carrots and tarragon leaves, pour evenly dressing and put
in the fridge infuse for 15-20 minutes. Sprinkle with serving
семенами flax.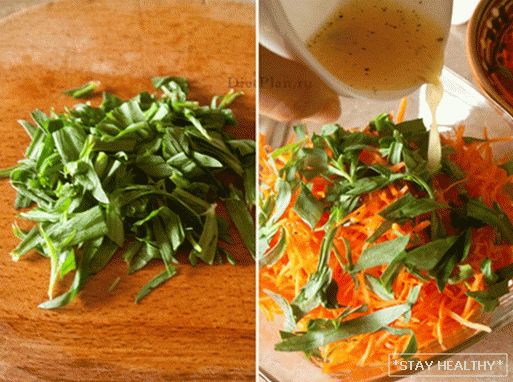 Calorie content
| Ingredients | amount | B / F / U | Kcal |
| --- | --- | --- | --- |
| carrot | 400 g | 3.7 / 1 / 38.3 | 164 |
| tarragon | 4 sprigs (5 g) | 1/0/2 | ten |
| Orange juice | 2 tbsp. (30 ml) | 0/0/3 | 13 |
| lemon juice | 1 tbsp. (15 ml) | 0/0/1 | 3 |
| Apple vinegar | 1 tsp (5g) | 0/0/0 | 0 |
| olive oil | 1 tsp (5g) | 0/4/0 | 36 |
| семена flax | 2 tsp. (5g) | 1/2 / 1.5 | 27 |
| Total (2 servings) | | | 253 kcal |
| 1 portion | | | 126 kcal |
| ten0 гр | | | 55 kcal |
This recipe from the category
Dietary salads, carrots