Good day. I, Olga Klishevskaya, again with you (did not pass and six months, as they say))) And again we sew topics with our own hands. This time I picked up the company of Asymmetric TOPs – that is, tops on one shoulder. WE WITH YOU AS AT LEAST 10 MIRACULOUS TOPIKOV of this series.
These tops look very beautiful – like on slim young ladies, and on owners of magnificent forms – EVERYTHING DEPENDS ON THE CUT.
Today we look at different asymmetrical cut-outs tops. And immediately in the following articles we'll specifically take up MASTER CLASSES on their tailoring.
Let's start …
One shoulder tops are tight-fitting.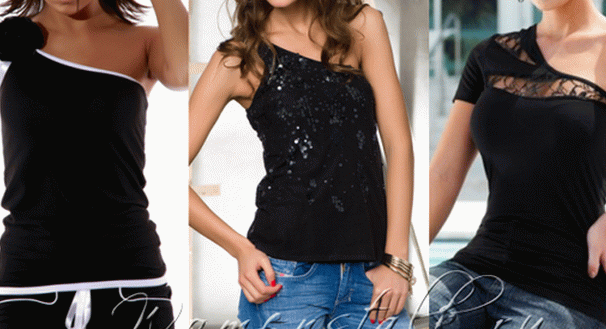 Tight tops are sewn very easily. If you have your PATTERN-BASIS (we have already done it) – then get a pattern such a top is not difficult – cut off the extra shoulder – and here you are, top, cuts and necks for fun. Such tight-fitting one-shoulder topics can be decorated with braid, counter stripe (see the first top in the photo above), embroider with sequins (second top) or decorate with elegant lace inserts (see third top in the photo above). Already in the next article I will publish a detailed master class, where we sew such tight-fitting asymmetric top with lace inserts. Further…
Top asymmetric, decorated with a flounce.
Oh, these shuttlecocks – wherever you send them, it will still be beautiful. Most often, asymmetric tops are decorated with ordinary classic shuttlecocks, sewn along the line of the oblique neck of the top (as we see on white top above). But you can show imagination and sew shuttlecocks in several rows, diagonally, starting from a single shoulder top and further down – as is done on a raspberry top above. OR you can make a slanting shuttlecock and sew it wide side on the shoulder – and narrow ends along the edge of the neck in side of the armpit – how it's done on purple top in the photo above.
Ruffles and their derivatives on asymmetric top.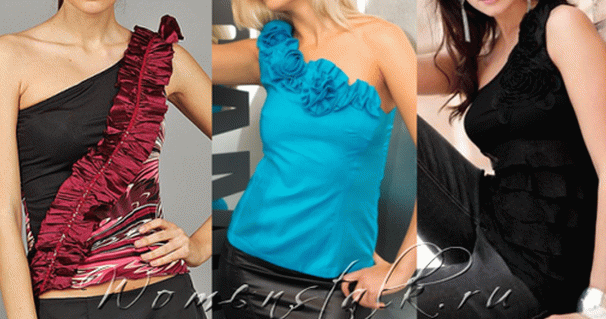 To boldly and proudly wear ruffled trim on his bodice diagonals (as in the burgundy-black top in the photo above), you need to have not large in size breasts. But if on the contrary you want to distract attention from a large breast – higher than the chest line sew curly ruffle – like in a blue top.
In the articles of the cycle "Asymmetric top – sew it yourself quickly and easily" we will consider sewing two topics from the photo above – burgundy black with a diagonal ruffle and turquoise with a figured ruffle decorated with frill roses of the same color.
By the way – just by the example of tailoring a burgundy and turquoise top – we will consider the difference in sewing a top made of stretch fabric (i.e. without tuck – as in a burgundy top) and a top made of non-stretch fabric with tucks – see turquoise top.
Tucks and skirts on tops with one shoulder.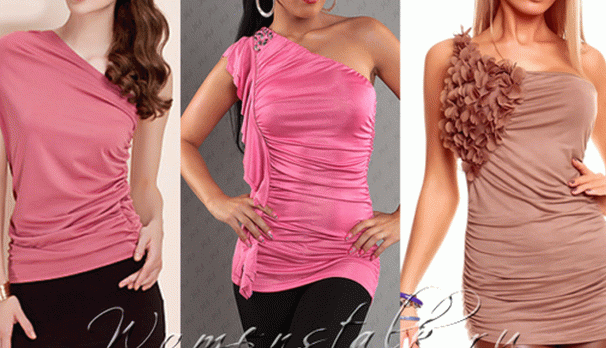 I love draperies – all these pinches and folds distract from other "folds" of the female body. I will tell you in detail and I will show HOW to CREATE a pattern of such a top and how to sew a top on it with pinches.
Tops with sewn draperies.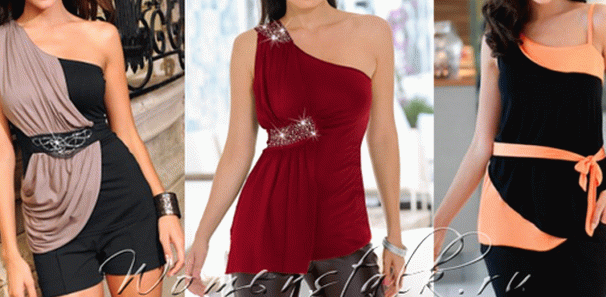 Each such top adorned with sewn drapery seems a work of high cut. But actually – create such a masterpiece of handcrafting is easy for beginners too self-taught seamstress. We will also sew one such topic in a special article.
One-piece asymmetric tops sleeve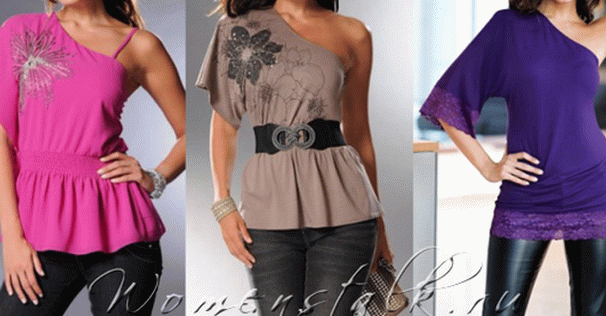 Such asymmetric tops are distinguished by the fact that they have an elongated shoulder line (pink top in the photo above). And if the sleeve is conceived long, then it is simply drawn as part of the whole pattern. I I will show and tell how to calculate all the sizes and draw pattern of such asymmetric tops with one sleeve.
But this I did not consider all the tops that we will sew (except perhaps the most photogenic) – I have more than 30 of them in my piggy bank already gathered – therefore I will please you with different topics in a cut. And also I prepared workshops on sewing tops and for those – U WHO DOESN'T HAVE ITS OWN PATTERN.
Therefore, this series of articles will delight all seamstresses, at all levels of mastery of this wonderful hobby.
So, let's start, as promised, with a black lace top in small pieces. Since lace season is a terrible trend, get … Asymmetric top – stitching yourself quickly and easily. PART 2
Good luck with your tailoring.
Olga Klishevskaya, specially for the site "Women's Talk".