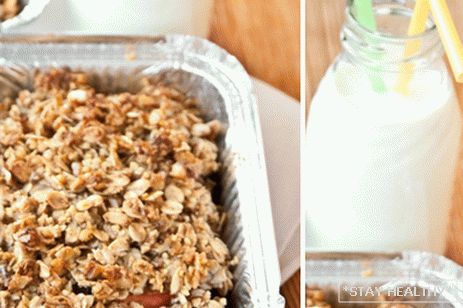 I suggest you cook a healthy dessert – apples under oatmeal
crust. This delicacy also includes nuts and raisins, and some
oil, so it turns out quite high in calories – about 220 kcal
on 100 gr. But compared to fat dough and cream cakes
it will still be easier, and most importantly, all the ingredients are very healthy,
these are not empty calories, but food that gives you vitamins and valuable
nutrients. The main thing is not to get involved. One hundred gram
a piece is enough.
Очень вкусные яблоки под хрустящей crust.
Ingredients
– 2 large sweet apples – 5 tbsp. oatmeal long boiling –
1 tbsp. butter – 0.5 tablespoons of walnut kernels – 2 tsp. honey
– 1 tsp. Natural Almond Extract – Small Handful
raisins – cinnamon
Recipe
1. Wash apples, cut them in half, remove seeds and chop
large lobules. Grease the form. I bake in a la carte
foil cups, but you can take a simple baking form,
what you have. Put the slices of apples into shape.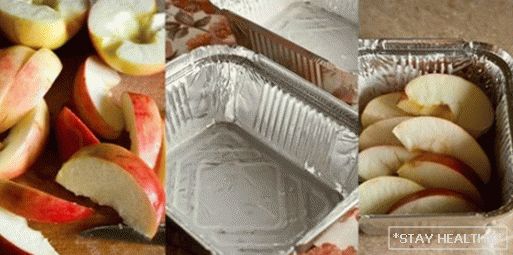 2. Половину порции орехов измельчить в блендере, вторую
half – large chop.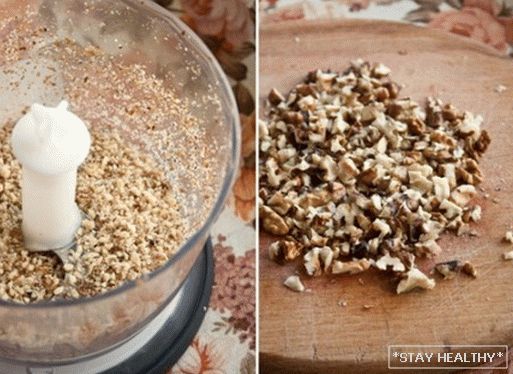 3. Яблоки посыпать корицей и raisinsом. In a shallow bowl
mix oatmeal, nuts, melted butter,
almond extract and honey. Stir so that all the oatmeal is covered
oil-honey mixture and began to gather in small lumps.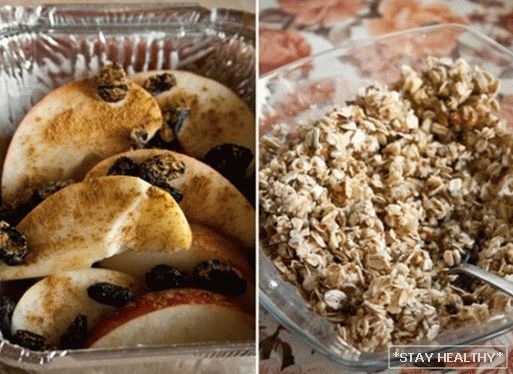 4. Cover the apples in the form of the obtained oat-nut crumb.
Bake in preheated to 190 C oven about 35-40 min., To
golden brown.
Such a dish will appeal to all your family, and even to those who oatmeal
does not like in principle. Fragrant soft apples baked under
crispy crust of oatmeal and nuts. By the way, you can take nuts
any, not necessarily walnuts. Suitable almonds, pecans, hazelnuts.
Calorie content
| Ingredients | amount | B / F / U | Kcal |
| --- | --- | --- | --- |
| large red apple | 2 pcs | 1 / 0.7 / 60 | 220 |
| oatmeal | 5 tbsp. (70g) | 9/5/47 | 263 |
| butter | 1 tbsp. (14g) | 0 / 11,5 / 0 | 102 |
| Walnut | 1/2 cup (80 g) | 19/47/8 | 494 |
| honey | 2 tsp. (20g) | 0/0 / 16,5 | 61 |
| almond extract | 1 tsp | 0/0/0 | 20 |
| raisins | handful (30 g) | 1/0 / 22,5 | 85 |
| Total | | | 1245 kcal |
| 100 gr | | | 220 kcal |
This recipe from the category
Dietary desserts, Oatmeal, Apples