Using tape in manicure makes it incredible to achieve
stylish result without much time. Thanks to his
Geometrical motifs offer a wide scope for
fantasy. A manicure with a ribbon for design can be both contrasted and
bright, so gentle and graceful.
Content:
What is a tape?
Features of manicure
Ideas and options
Matte manicure
Fashion jacket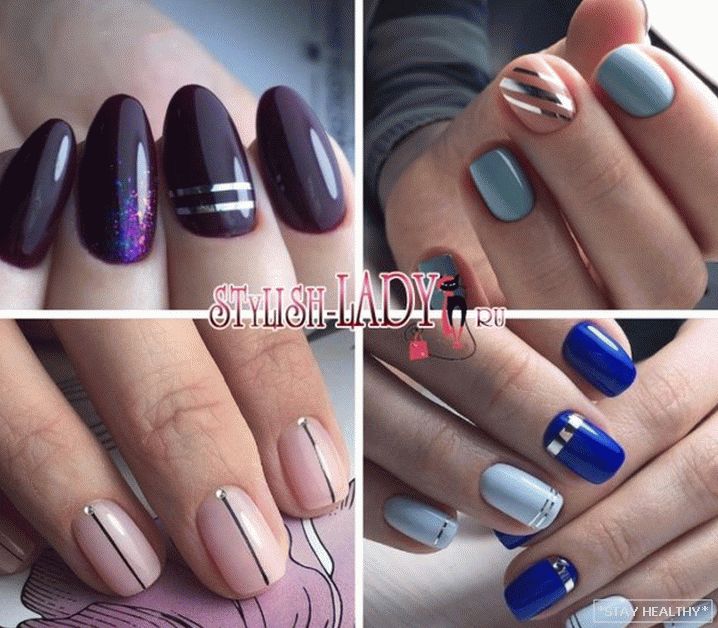 What tape is used in manicure?
In the field of nail design as a tape is used
coiled thin strip with adhesive backing. She may have
a variety of colors, but its characteristic feature is
brilliance. It is very easy to find on sale in any specialized
the store. The ideal tape width is about one and a half millimeters, so
how thanks to her you can achieve the most interesting,
sophisticated and beautiful manicure.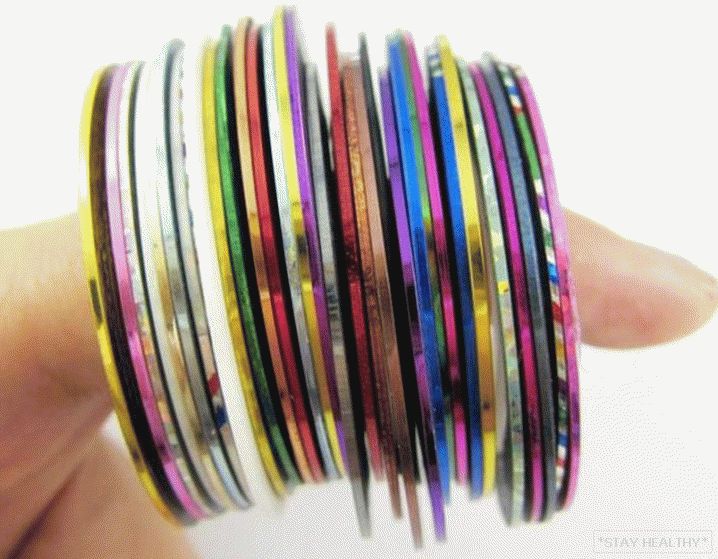 Manicure features with ribbon
Whatever coating you prefer – the usual varnish,
acrylic or modeling gel, the tape will hold perfectly
thanks to the adhesive layer.
To avoid notching the overly pressed tape and achieve
maximum manicure resistance, it is important to thoroughly dry the coating
at normal temperature or in the lamp, if you choose gel varnish. With
sticking to the strip must be at least a millimeter away from
the edges of the nail and the cuticle.
As a final step, apply a transparent
finish coat. Do not be afraid that because of this tape will lose its
shine. This technique will help to achieve the durability of the design.
There are two ways to create a unique manicure using
tapes. In the first case, decorative self-adhesive are used.
strips decorating nails. In the second, the bands themselves are secondary and
removed from the surface of the nails after reaching the required
effect.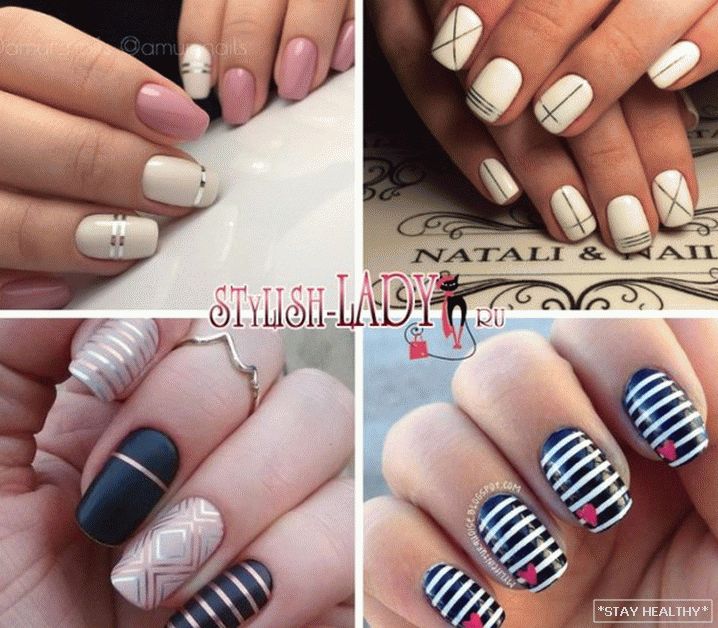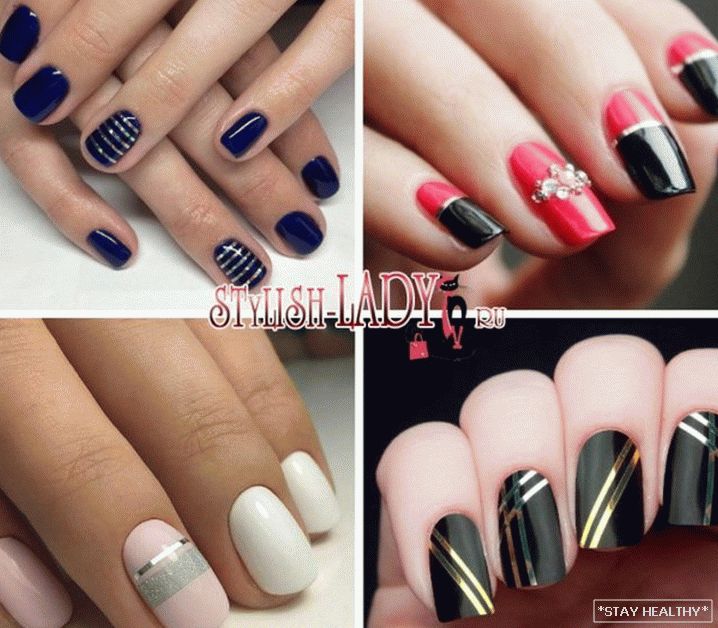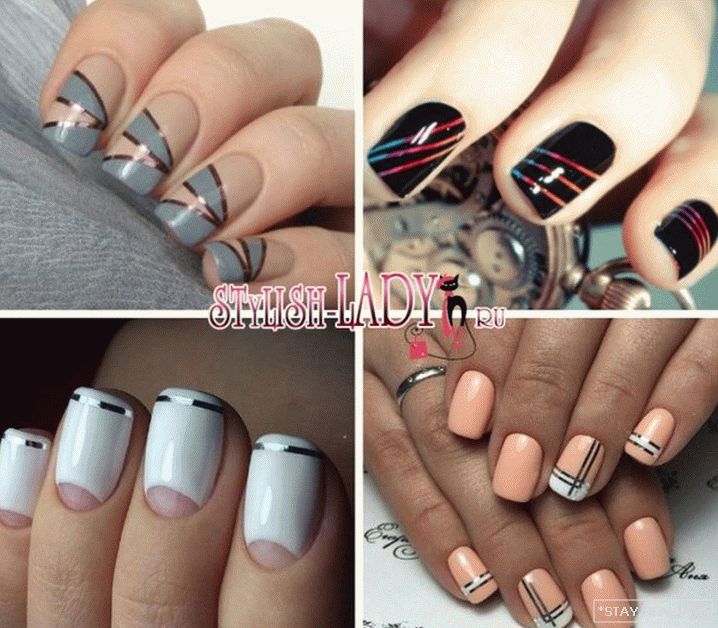 Design Ideas
We offer you a selection of interesting photos
дизайнов, выполненных с помощью самоклеящихся tapes.
Make a manicure in a monochromatic color more original, you can with
using vertical or horizontal stripes. On a white base
black ribbons look great, and on deep blue – stripes
metallic color.
You can, as mentioned earlier, use tapes as
supporting material. Covering nails with a layer of acid yellow
varnish, attach to them three vertical stripes and apply over
a layer of gray lacquer. When you remove the tape, on the surface of the nail
there will be yellow stripes. They will be perfectly smooth and make nails
visually narrower and longer.
If the nails are initially long, you can use
a pair of harmonious colors that visually divide
nail horizontally in half. The best option – delicate shades
pink and blue colors, the joint between which you can close
silver stripe. You can make the stripes of these shades the same.
in width or give preference to one of them. If prevail
there will be a color located at the base – the design will be similar to
variation of the French manicure, otherwise – on analog
moon coat A great highlight is to leave the hole.
transparent.
The last few seasons of the key trend in the world of manicure
there is a gradient, and it is also perfectly complemented by stripes,
transforming into an absolutely unique style. Beautiful ombre effect
can easily be achieved at home using special
sponge Alternatively, you can simply apply a few
colors right next to each other.
Having finished applying the coating and waiting for it to dry completely,
glue over the tape. You can decorate each nail in a special way,
You can do the same design. Now apply black on top.
varnish and wait for it to dry. When you remove the tapes, you will see
how multicolored stripes look originally.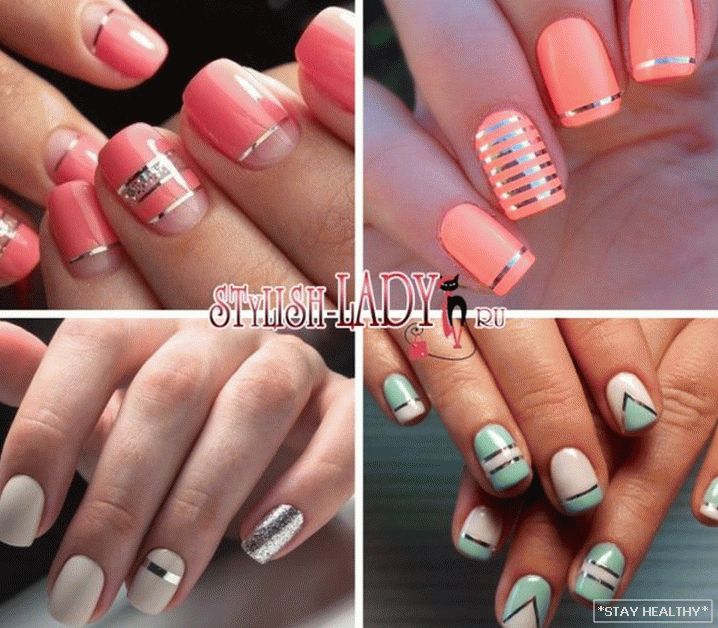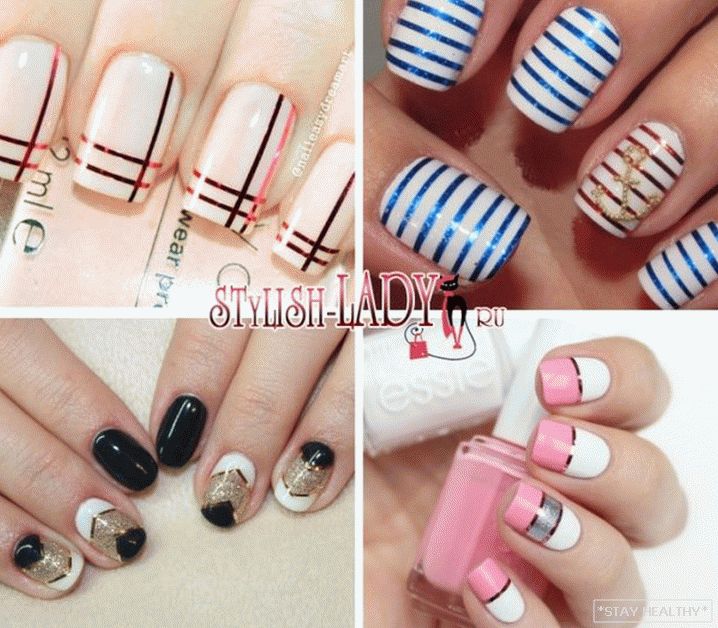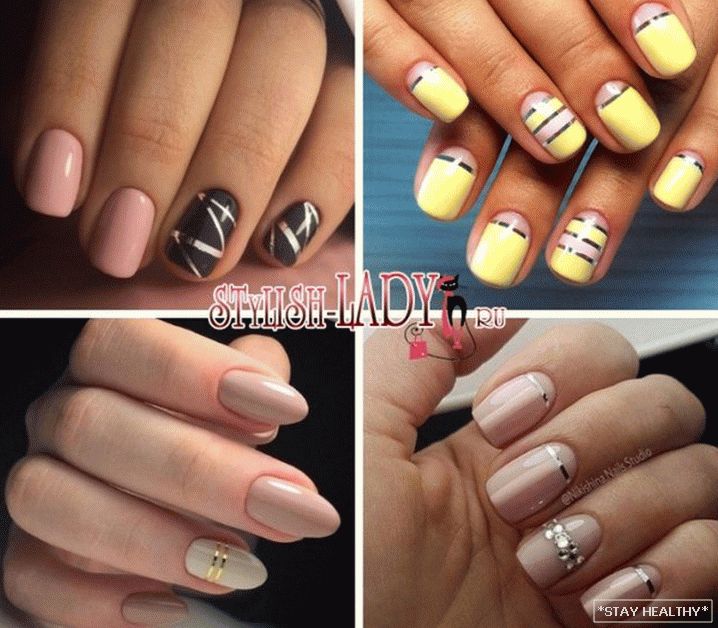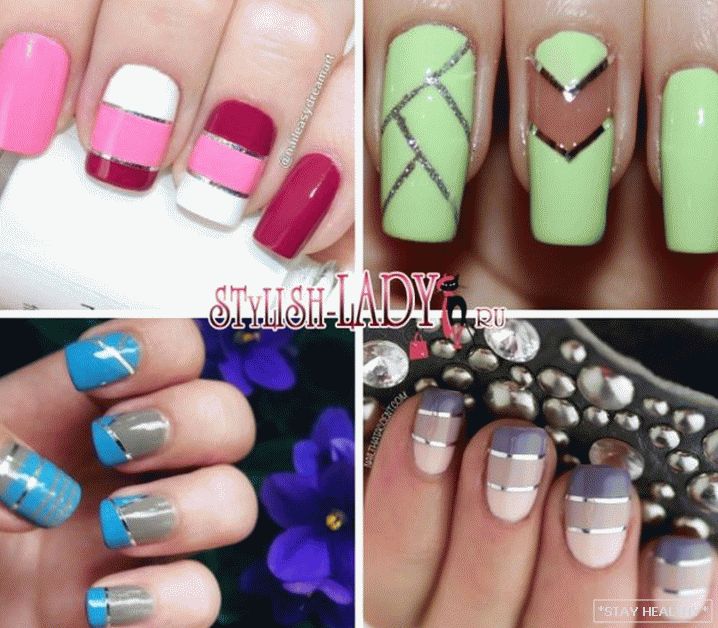 Matte manicure
Bright and shiny stripes look very original on
a restrained matte background and there is a huge selection of permissible
color patterns. The lines of golden hue on the
dark background.
One of the popular choices is a stripe division of the nail.
in half. You can leave the background color the same or take two
matching option.
French tape
Classic French manicure is familiar to every woman. For his
the creation is necessary to draw a perfectly smooth white stripe along
the edge of the nail plate and make it far from easy if you have
there is no duct tape at hand.
French does not have to be white or beige, and
the variety of shades of adhesive tapes is huge.
Such a manicure is suitable for a solemn event,
and for every day. And if used as a decorative
elements of rhinestones, you get a great wedding manicure.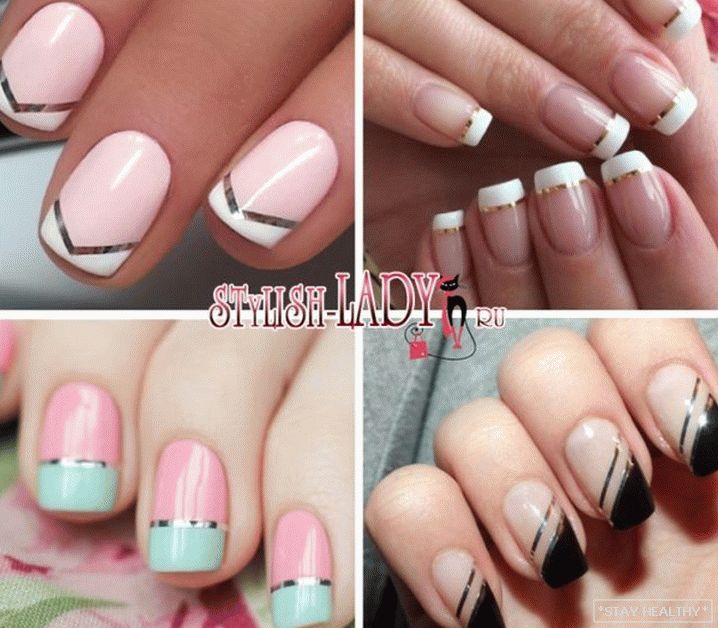 Many design options are literally inexhaustible, and if you
it seems that you have already tried everything possible
You are mistaken. Manicure tapes are a unique tool that
geometric progression increases the selection. Withчем, ленточная
the equipment is at the same time very interesting and simple and available to each
to the girl. Wide range, ease main applications
arguments that make it worth experimenting with such
manicure.