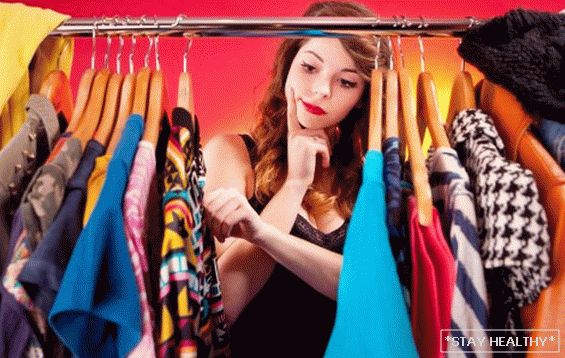 New season promises fireworks bold, charming
innovations and revision of fashion values ​​that we perceive as
granted. But to be stylish and never
find yourself in a situation of "I have nothing to wear", not necessarily
empty and replenish the entire wardrobe. Taking note of the tips
and practical advice from leading stylists and consultants
world-famous shopping, you can easily and easily follow
images from fashion shows, while remaining true to her
individual style and not emptying the last
piggy bank.
---
TOP trends
---
Pastel shades
Powdery, ash roses, pigeon egg, creamy lemon … Gentle
colors this season do not need vivid details and make
surprisingly suitable for everyday wear so complicated for
in past years, things like men's suits, oversized cardigans and
flowing dresses without belts.
Large bows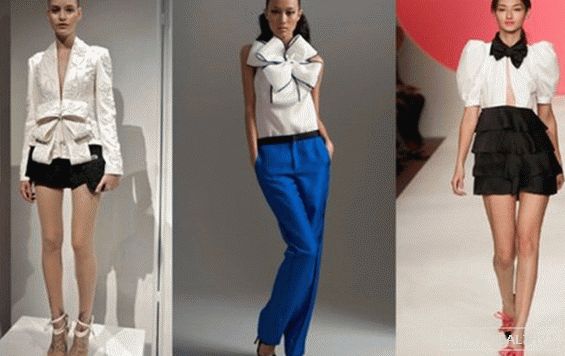 This season will not belong to the day, but evening
fashion And along with the designers attention to satin and brilliant
accessories will allow even in a cocktail dress luxury image
resemble the court lady of Marie Antoinette.
Gradient
A great reason to combine two shades, especially in the new
season trend is expanding its influence, now covering not only
dresses, but also taking summer outerwear (coats, coats,
jackets).
Bandana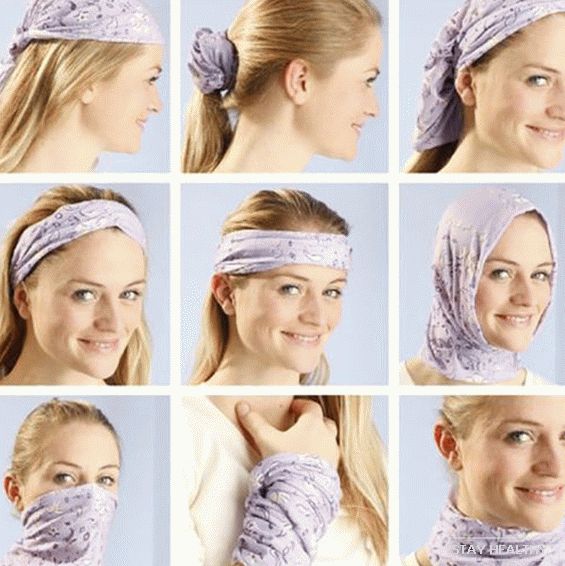 The accessory can be worn as in the 90s – knit on
neck, head, even ankle, and also on the handle of the bag. The main thing to do
It is careless and to combine its color with something else.
Peas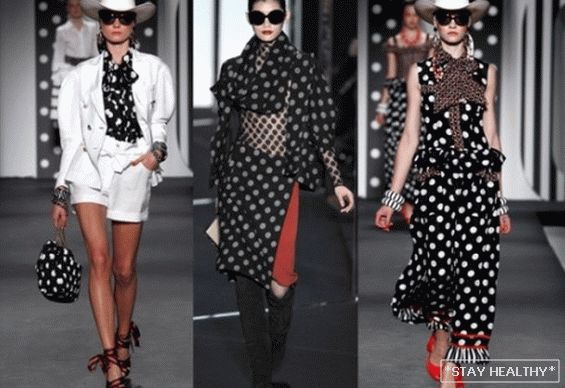 Another trend from the 90s, mostly – black on white and
white on black. It is especially spectacular on dresses to the floor, from
air chiffon, multi-layer mesh, as well as on three-piece suits
with pants (which, by the way, not only for peas this summer is fashionable
expand or contract and shorten to three-quarters).
Bermuda
Become a real gift for the townspeople who do not want
overheat, but it's also not allowed, let's say, to flaunt in the office
micro shorts. And with bermudas everything is possible – elongated with cuffs and
Arrows will be good with a classic jacket, and from fabric pleated with
bright T-shirt – suitable for a walk in the park with ice cream.
Beige leather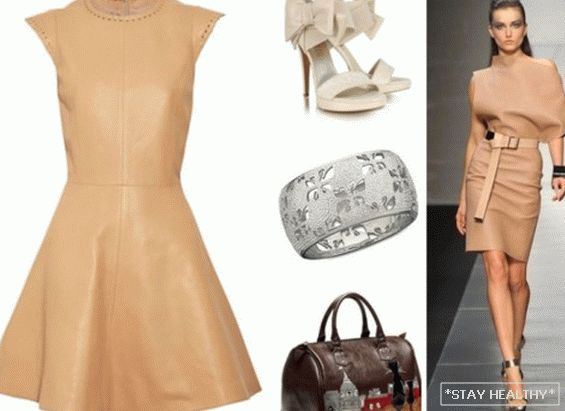 In place of the rich colors came beige restraint, especially
topical in cloaks and seductively fitting legs skirts.
Try combining this with woven belts and a motley top with
vegetable print and in the summer you can taste the trends of autumn.
Wide brimmed hats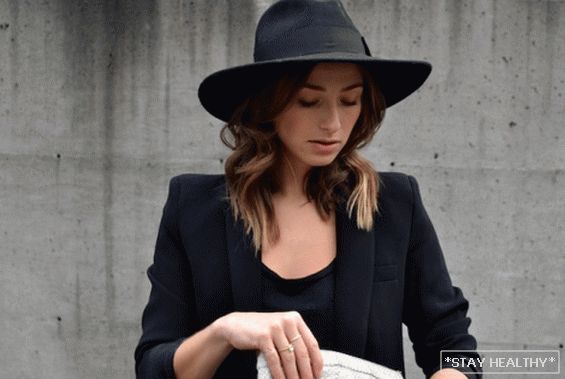 Such an accessory on vacation is especially appropriate. Some designers
do not skimp on the decor – from embroidery and ribbons to the veil. In a word
it seems that the times have returned when the ladies hid their faces from the sun. AND
the shadow, by the way, is really useful for youthful skin.
White
ANDменно снежный и только он во всем образе, усиленный строгими
details and sharp lines. Let it not seem inappropriate, stamped
for the city. For the summer we recommend several such monochrome
images that emphasize the courage of your character.
Some rules for the formation of basic
wardrobe
Decide what you really need and sort the available things.
on certain groups, a list of what you are going to help
busy in everyday life. For example:
I work in an office and although the dress code is not strictly prescribed,
Classic costumes are preferred.
On weekends, we with children definitely get out to the zoo, park with
opportunity to play actively on the river for a picnic.
My friends and I often visit one of us and this
not boring gatherings at the table, but something fun with the table
games, cakes and cocktails.
In the evening my turn to walk the dog, and three more times a week I
I go shopping.
If a case falls out (and the parents took the children away for a day), I don't
against spending the day at home doing nothing.
ANDсходя из этого, можно назвать следующие нужные
things:
Three or four suits and well, if a pair of them can be changed
top (for example, wear a plum jacket to a beige skirt
trouser). Plus – not dull additions to them – a silk scarf with
goldfish, leather belt with wild flowers, large
pendant and earrings made of turquoise, scarlet lacquered heels.
Two pairs of comfortable jeans (one torn), and more – peach
light pants, some funny t-shirts, a large cardigan lemon
knit and coral cotton skirt.
Little black dress with silver embroidery and blue dress with
fluffy skirt below the knee.
Warm sweater with raglan sleeves, sneakers and blue cloth trousers,
tolerates frequent washings.
Cozy pajamas with a funny print.
But the wardrobe, of course, can not be selected only under
certain cases (and the examples given are only small and not
detailed, without options, part). His make up and things selected
just according to personal taste (so, in principle, style is formed), the most
loved ones around which, like satellites around the planet there are other
its elements.
Unacceptable Trendy and Practical Mistakes
In order not to experience frustration supported by physical
discomfort and emotional disorder, do not:
Buy beautiful but uncomfortable shoes, in the hope that
spread, leg gets used to it.
Acquire a thing that is not suitable for anything in the wardrobe, promising
pick up something for her later.
Combine in one image more than 2 bright colors of individual
of things – it can make you outlandish, but the truth is "funny"
flower
Add things to your wardrobe that you don't like for your personal
taste / do not fit perfectly, but – fashionable, which means you need to wear.
In fact, it is better to go to the second season in your favorite and that
perfect fit than the fact that at first glance will be
perceived as "alien" to you.
Create images, literally copying fashion magazines / exits
stars Even if this is a beautiful option – it is worth adding
something personal, individual, for example, change jewelry from large
on small and heel height.
Choose items with "loud" logos in prominent places, in
hope so to emphasize their wealth. Similar all over the world already
ten years is considered bad form and says only that
man has nothing to stand apart from the brand.
Continue to wear things old, but seemingly cozy, expensive
personal reasons. If something is worn out – maximum, this place
at the cottage or at home, but around at first sight
outfit of the first freshness will be visible.
Take the dress of your dreams (or jeans, skirt), which will
fit, you only lose weight. Good to believe that this moment
will come, but, first, you can lose weight not exactly for a specific
size, and secondly, the charm of the thing by that moment risks
burn out
Make the final decision according to the opinion
girlfriends / husband / aunts, who know better what is going on for you. Even if it is
advice from, say, the chief editor of a glossy magazine is the main thing
so that you like the thing.