Content:
How to create a blue Christmas manicure
Blue manicure with snowflakes
Gradient and Ombre
Cosmos on the nails
Broken glass
Moon manicure in blue
Trendy geometry blue lacquer
Manicure with sparkles
With an image
Successful combinations
Shades of cool blue color are associated with winter,
frost and new year holidays. Therefore, it is quite relevant in
creating a New Year's manicure and brings a winter touch to the festive
form.
The blue color can be very different: matte, glossy, radiant,
bright – choose the one that suits you!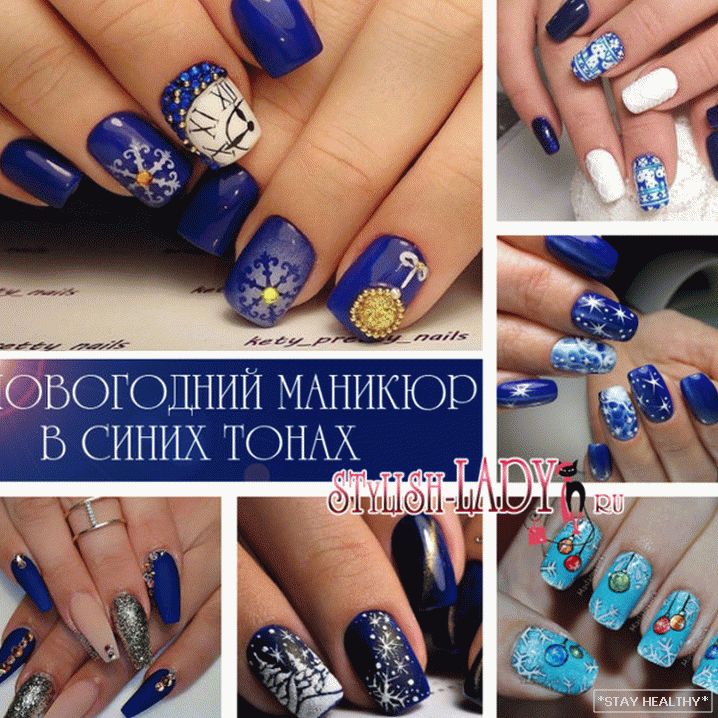 How to create a blue Christmas manicure
To create a beautiful winter manicure in blue
will need:
varnishes of different textures and shades (shades of blue –
required);
transparent base / fixer;
brushes for drawing design;
golden scotch;
gradient sponge;
strip for french;
brilliant powder blue, blue, gold, silver color
and other colors.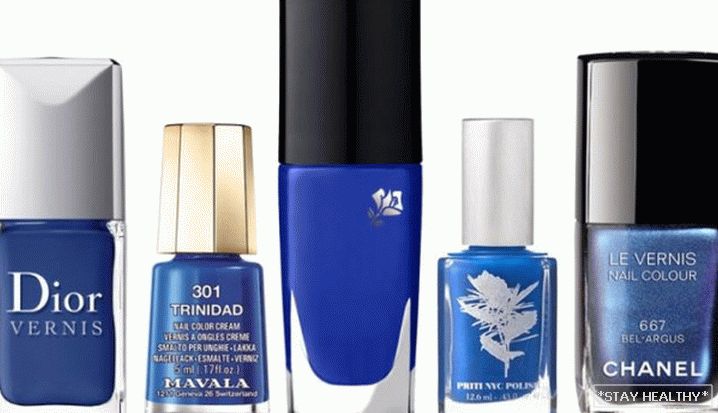 Snowflakes on blue background
Winter themes can't do without snowflakes. And even if
the weather does not make you happy with snow, you can always draw it on
your nails! And make your manicure very fashionable and relevant
allow the use of a variety of sparkles.
Drawing a snowflake on the nail with your own strength is not at all difficult,
even if you are very far from visual art. AT
the stores are very easy to find special stencils with which you
Draw patterns of any complexity. But you can do without
special devices, drawing a snowflake with a thin brush,
sewing needle or ordinary toothpick.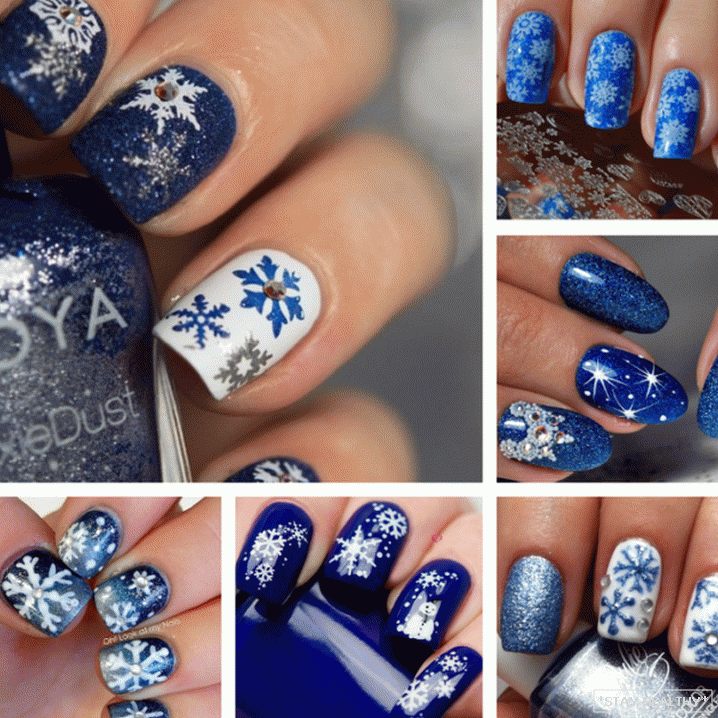 Gradient pattern and ombre
You have very little time to create a manicure and you do not want
suffer with complex designs? Try to make it simple.
gradient. Blue has a huge number of shades, and five
one of them is enough for a gradient pattern on all nails. This is very
popular and fashionable manicure.
AT тренде сейчас и классический омбре на одном ногте, но теперь
You can safely combine colors in any order. For example, shades
blue to create the effect of the northern lights or bewitching
evening sky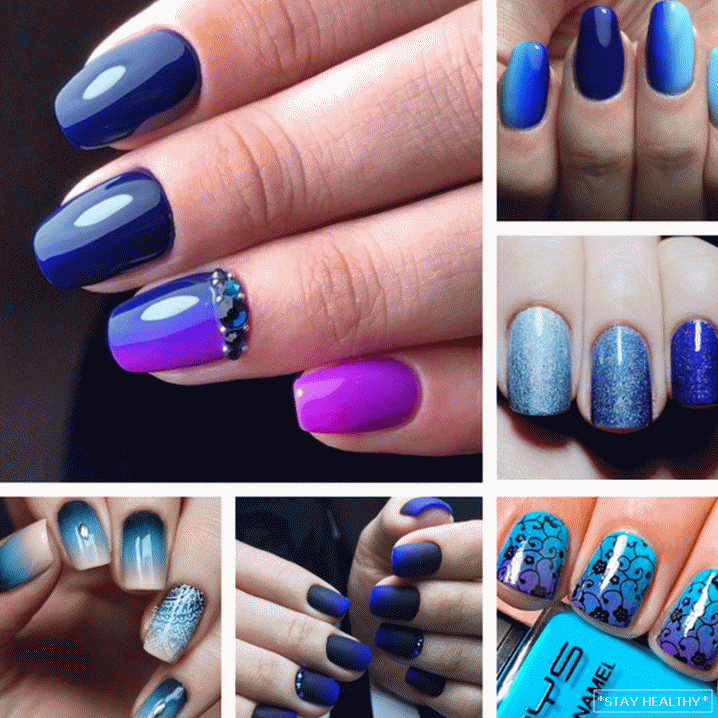 Space pattern on the nails
The starry night effect looks very original and expensive.
the sky. Draw stars, planets and whole galaxies on your nails
can any girl without spending a lot of time and effort. Need to
just get some inspiration and start creating.
To manicure was reliable and durable, to begin with
paint your nails with a colorless base or with a strengthening varnish.
After the base has dried, apply basic dark varnish – at least in
two layers.
Cut the sponge into several small pieces.
Apply light varnish on the sponge and cautious movements.
touch your nails, creating cosmic effects in your own way
to taste.
Perform the same actions with colored varnishes,
выбранными по вашему to taste. Add new coatings to the finished coating.
strokes and intricate lines.
Done, you painted space!
Add planets to your space. For this you can use
large glitter or shiny varnish. At the final stage, cover
nails fixer.
It will not take long to draw a cosmic pattern, but you
can achieve a stunning effect. No one will even come to
the head that you did this manicure yourself, not the master
nail service.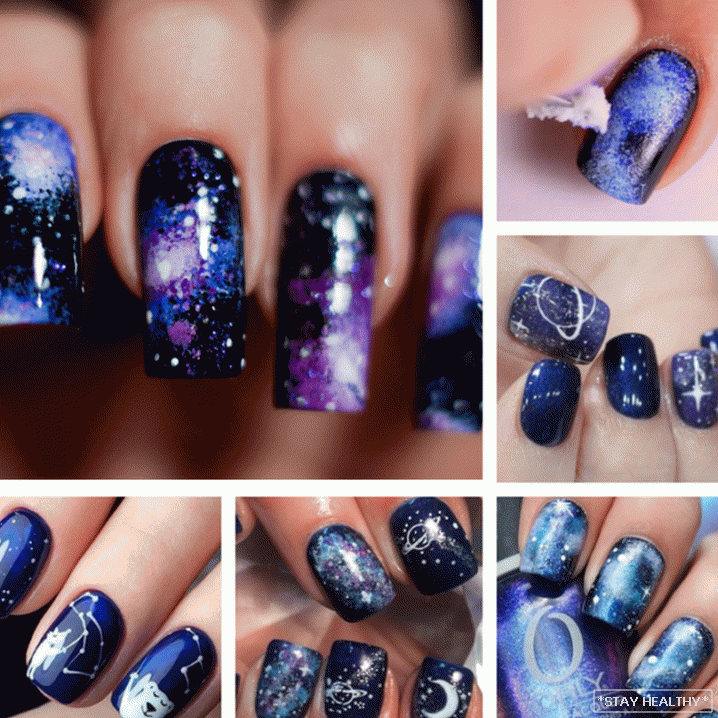 Broken glass effect
The still popular broken glass effect can be obtained
attaching to the nails small pieces of material in certain
provisions. The pattern can be symmetrical and correct (as
ornament) or absolutely chaotic and casual. AT любом случае,
when the sun's rays hit your nails, they will sparkle
all shades of the rainbow.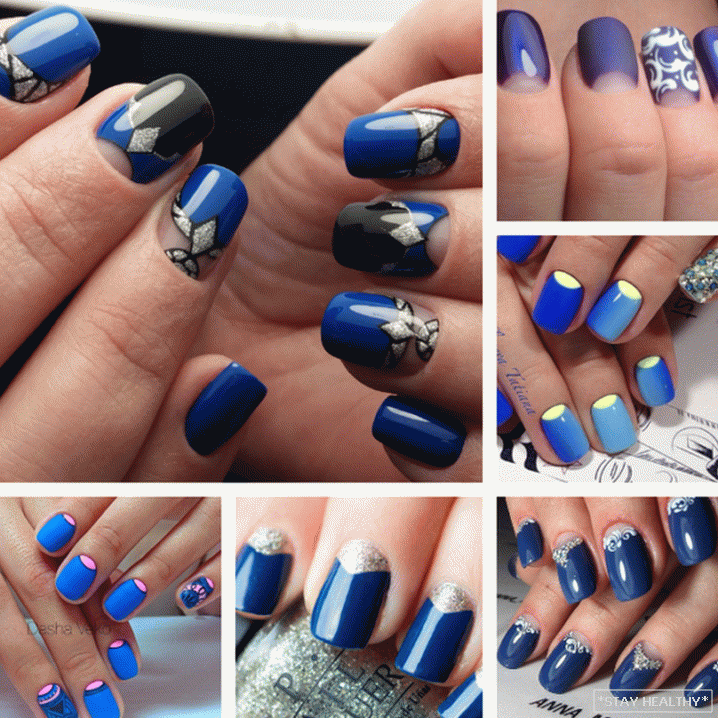 Lunar manicure for the New Year
If you prefer a classic manicure and do not want
bother with complex drawings, patterns and ornaments,
try to create a lunar new year manicure with blue varnish. Can
perform a similar nail design for the new year holidays in blue –
white or decorate your nails with a silver hole. Very elegant and
dark blue lunar new year's manicure with a hole looks beautiful,
decorated with large sparkles or small rhinestones.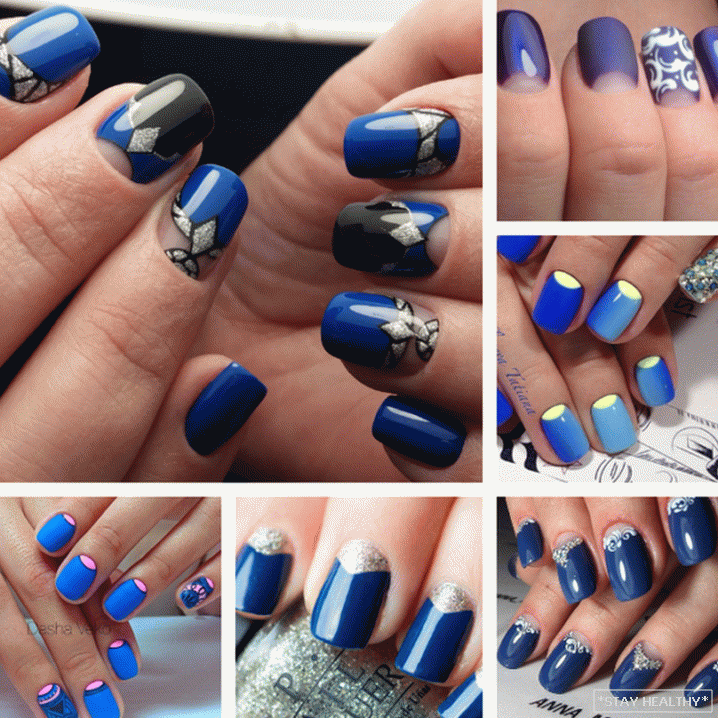 Geometric pattern for New Year's manicure
For several years, geometric
drawings on the nails. Parallel lines, triangles, rectangles
and other regular shapes create an interesting pattern. Such
the original drawing not only looks beautiful, but does not last long
annoying.
ATы можете проявить фантазию и использовать круглые формы,
incomplete shapes, zigzags and more. But sure
keep in mind that the more complex the pattern, the more neutral the colors of varnishes
should choose. Black color looks very nice
blue or blue background. If you want to make a drawing more
festive, try adding sparkles.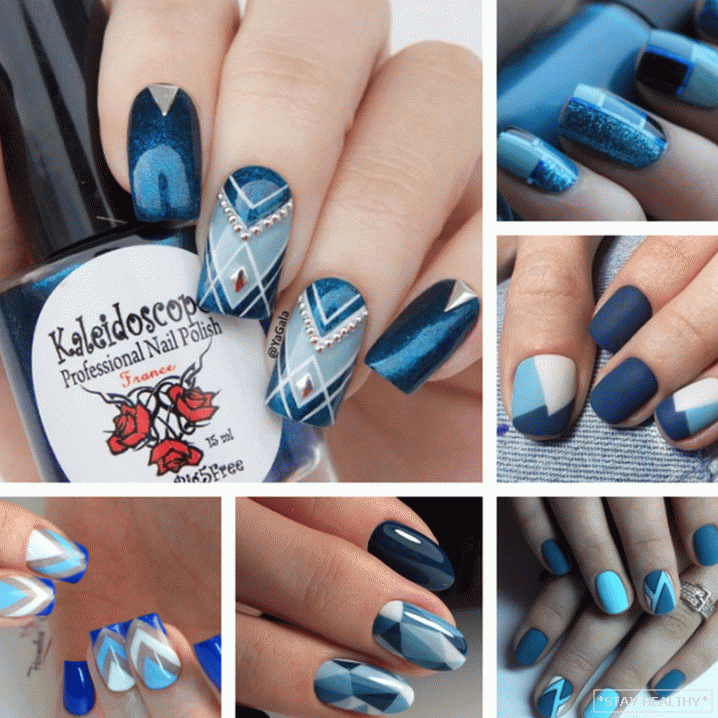 Brilliant blue manicure for the New Year with sparkles, rhinestones,
glitter, sand
When creating a New Year's manicure is difficult to overdo it with
shiny elements. This is a great case when you can safely
embody the most daring and sparkling ideas.
Were and remain relevant this year for the New Year
rhinestones – a variety of shapes and colors.
Brilliant ombre and gradient with mica and shine looks very
fresh and attracts the eye.
Bright and dazzling look manicure with glitter. For him
creating used shining sand of different shades, in choosing
which you will not have restrictions.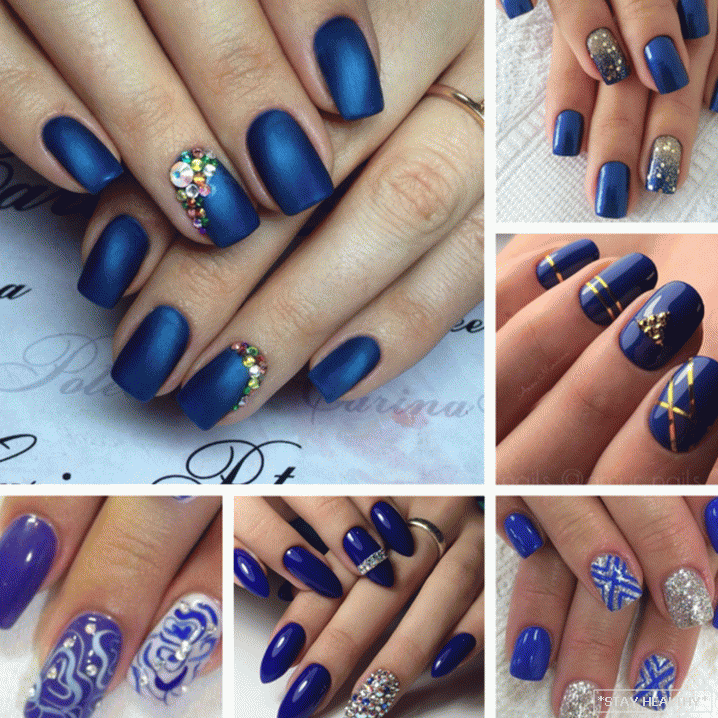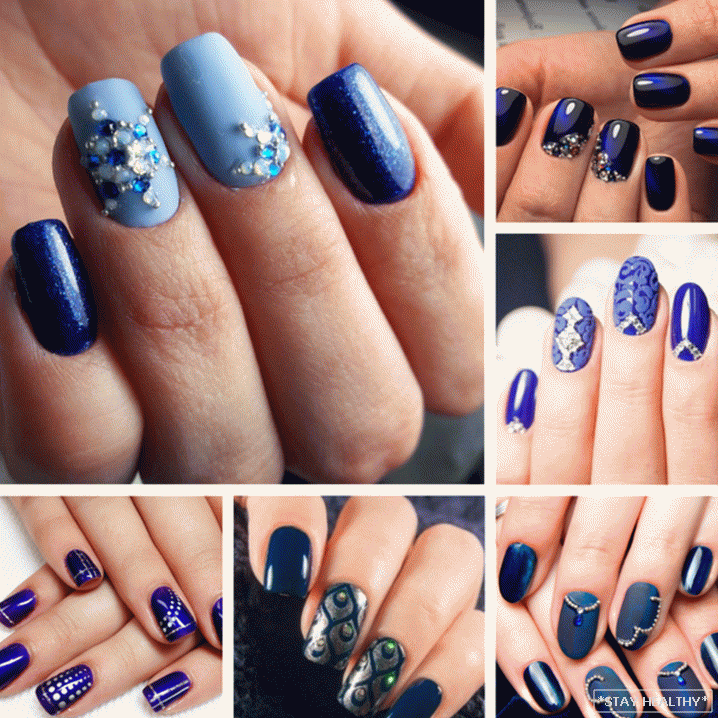 A variety of drawings on a blue background
Drawings on nails for New Year's holidays are amazing.
abstraction and luxury of shiny sparkles. Very relevant now
modern geometric patterns and classical Chinese motifs.
AT списке трендов ногтевого дизайна на Новый год – изображения
holiday trees, watches, glasses of champagne and aristocratic
monograms. Such bold painting decorates hands and gives excellent
mood for the holidays.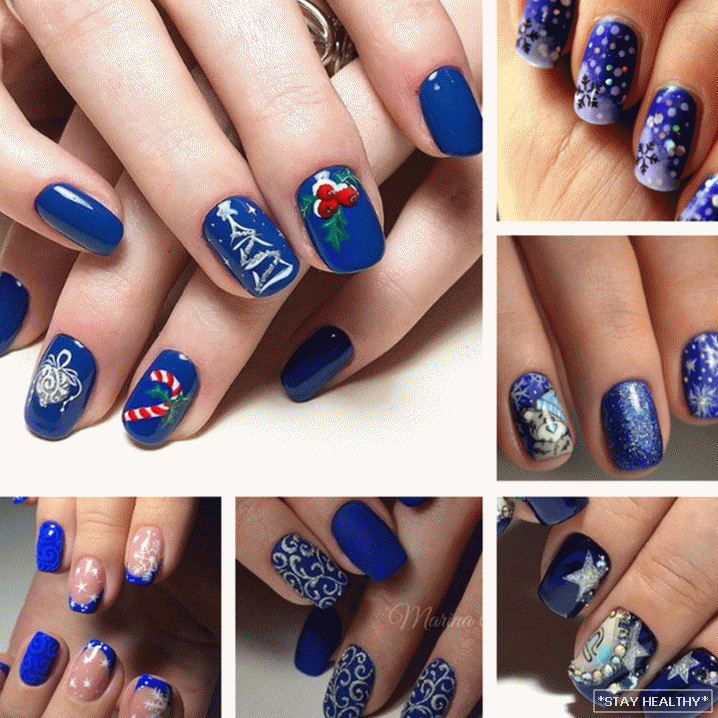 A variety of blue tones in nail design
Blue is good for its restraint, rich character
some shades and a huge selection of designs. ATсе это привлекает
Many girls use shades of blue to create modern
holiday manicure. Many, on the contrary, this color repels,
because it seems too contrasting. Can выделить несколько
dark shades of blue:
midnight blue;
sapphire;
Navy blue;
ultramarine.
If you do not like saturated colors, you can safely
choose from a large number of bright colors, including –
all shades of blue and turquoise. Most often in manicure
The following light blue variations are used:
cornflower;
gray
azure;
aquamarine.
The names of these shades not only sound, but also look very
beautiful. ATы обязательно найдете их в палитре любого мастера
nail service.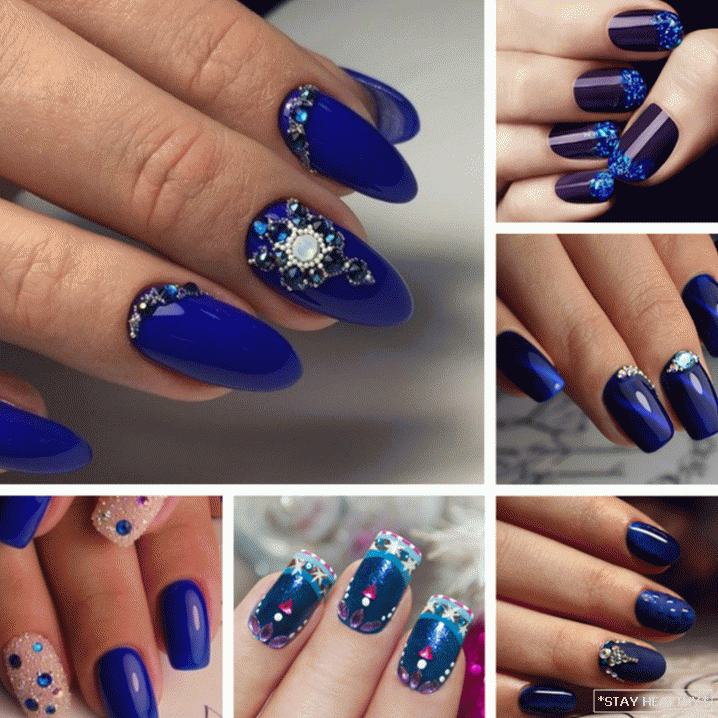 Lucky blue shades are perfectly combined with many others.
flowers. AT их числе – желтый, черный, зеленый, белый и красный, а
also gold and silver. In addition, you can combine
companion colors and different shades of blue in one design,
creating a unique manicure.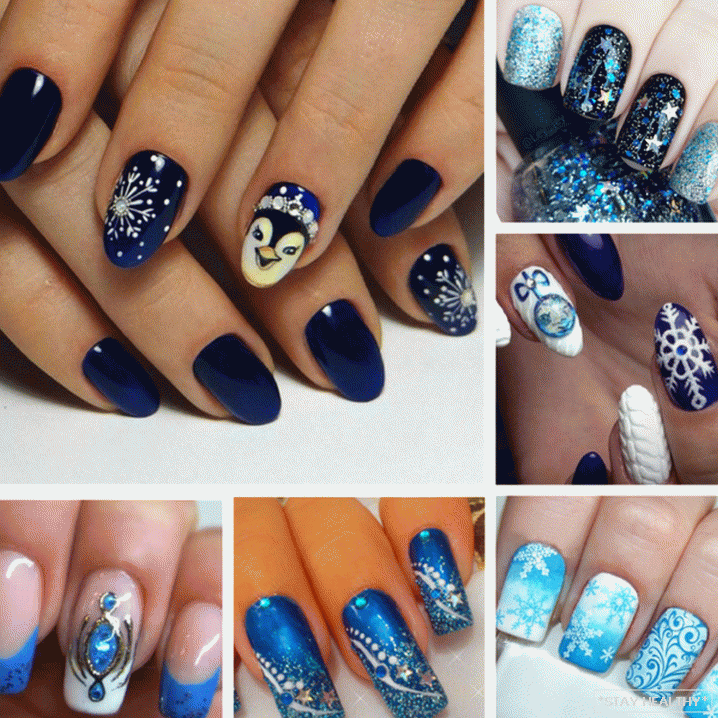 When making nails for the New Year holidays try
make the manicure match your outfit. And not
forget that in the New Year you need to look beautiful and stylish,
avoiding the clown and comedic bright combinations that are more appropriate
on the holiday tree, not on your nails.