The rapid cooling clearly indicates the approach of winter. But with
she will come not only snow and frost, but also the most joyful and cheerful
New Year holiday. Already prepared an elegant dress and elegant
shoes with heels. It's time to come up with a manicure
decorate your nails on this bright night.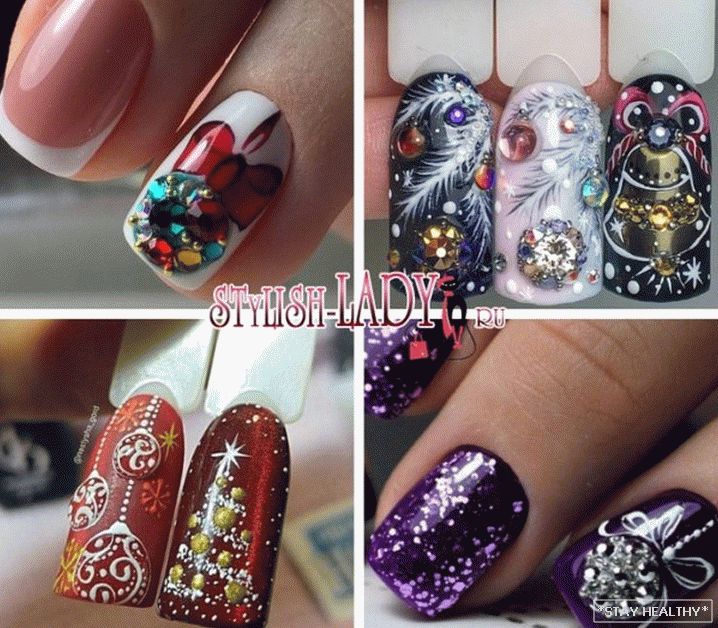 Successful color combinations
Traditionally New Year and Christmas colors are considered
green, red and gold. They add neutral white for
connection details. But in this bright range you can make a variety
if you do not want to limit your imagination.
You can, of course, choose a shade of color to your liking, but for
New Year's Eve is usually used emerald shade, deep and
clean, associated with needles, scarlet or ruby ​​red and
gold, more often in the form of sparkles or metallic, shining varnish. These
the colors blend beautifully with each other and even without spectacular
design immediately create the desired holiday mood.
But such bright colors are not always in harmony with the appearance
women, with her outfit and colors. Therefore, it is worth considering and
other options in which you can turn on the decor in the form of a Christmas tree and
Christmas tree toys. Perfect white background. It symbolizes snow
and winter, the pattern on it will look bold and noticeable. Can
not to be limited to pure white, but to depict drifts with
using a gentle shade of blue. It will also go well with
flowers Christmas trees and decorations.
If you want to focus on the design, and not on the background
color, it is better to paint the nails in a neutral flesh tone. In that
case, nail art will come to the fore, so it must be
made perfectly neat.
The most spectacular will be a manicure on a gold background, but you can
use both silver and light bronze, copper, if these colors
more fit for outfit. Such a pattern will literally shine on
metallic background.
White, blue and silver – no less impressive combination,
suggestive of snow and winter. If you want more saturated
colors, there is nothing better than a dark blue or thick purple background with
silver sparkles. To make the Christmas tree stand out brightly on such a dark
background, it is better to paint with metallic sparkling paints.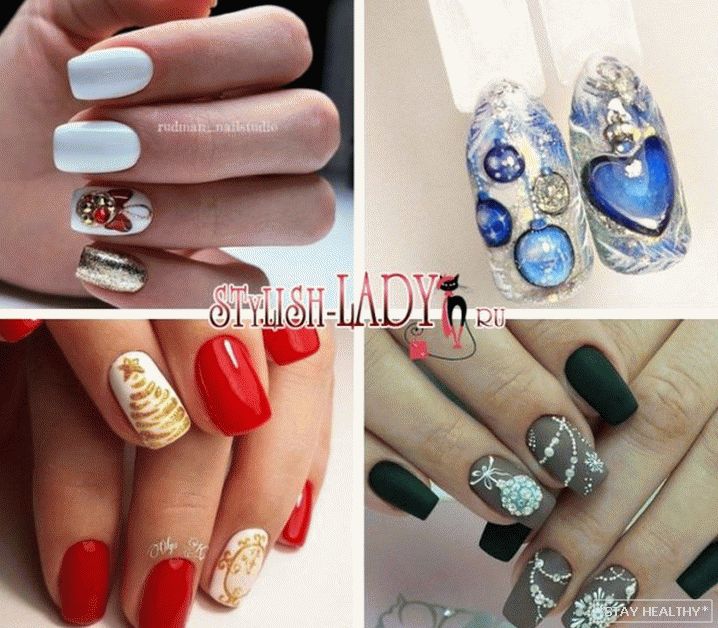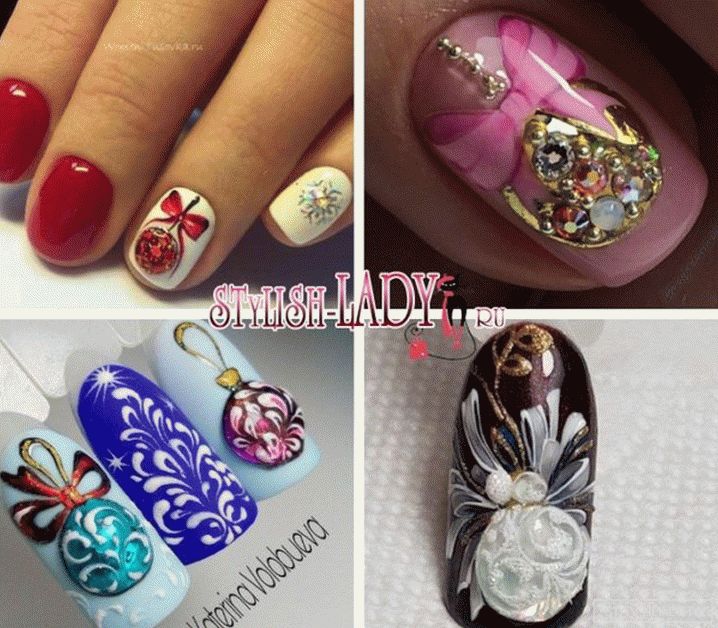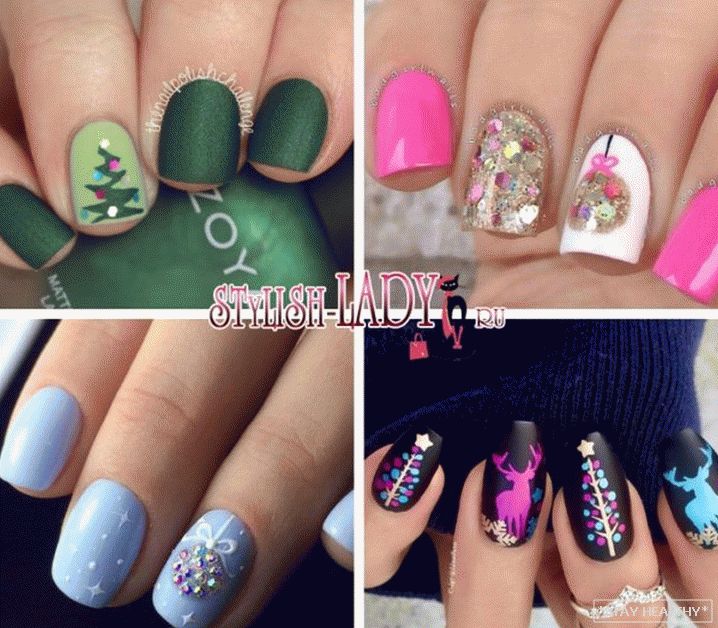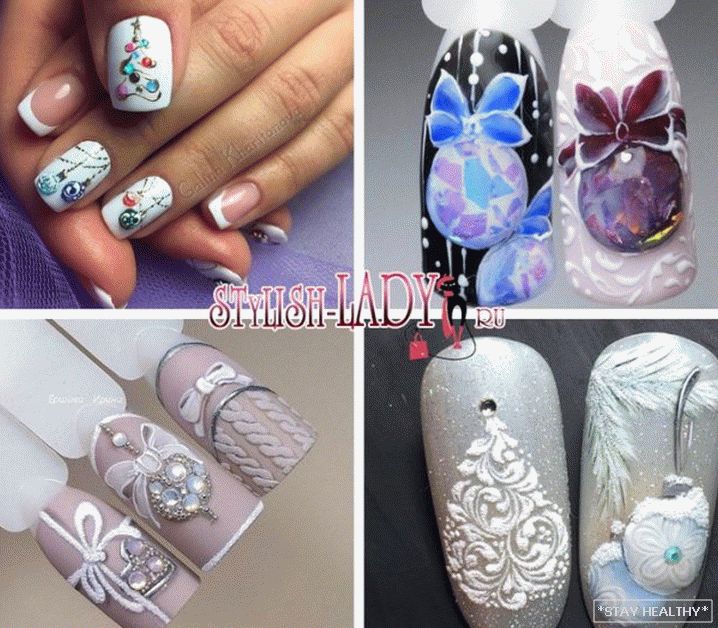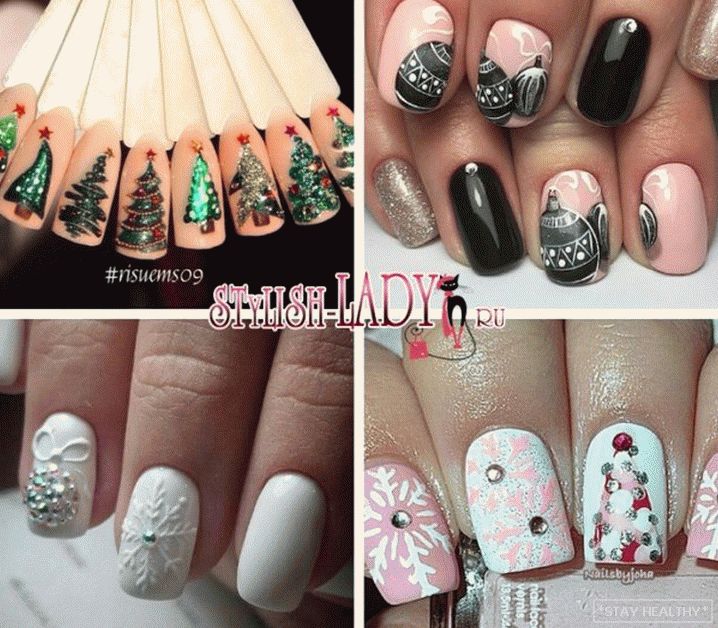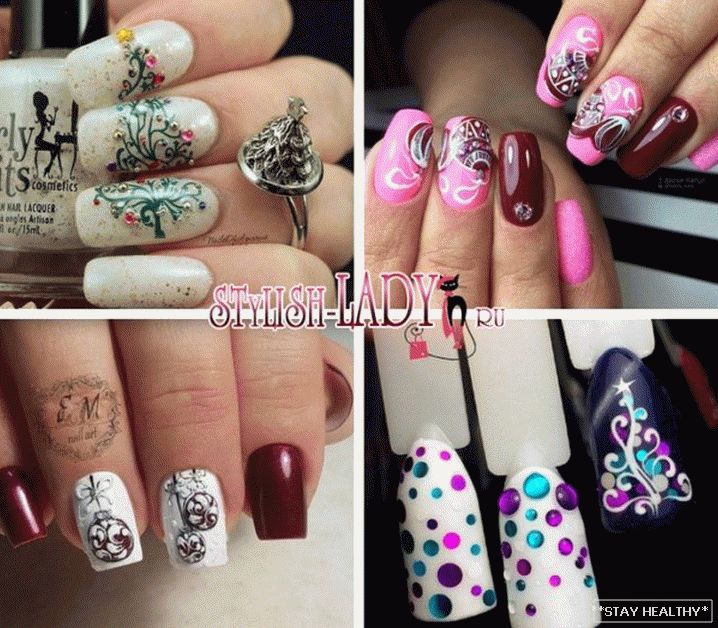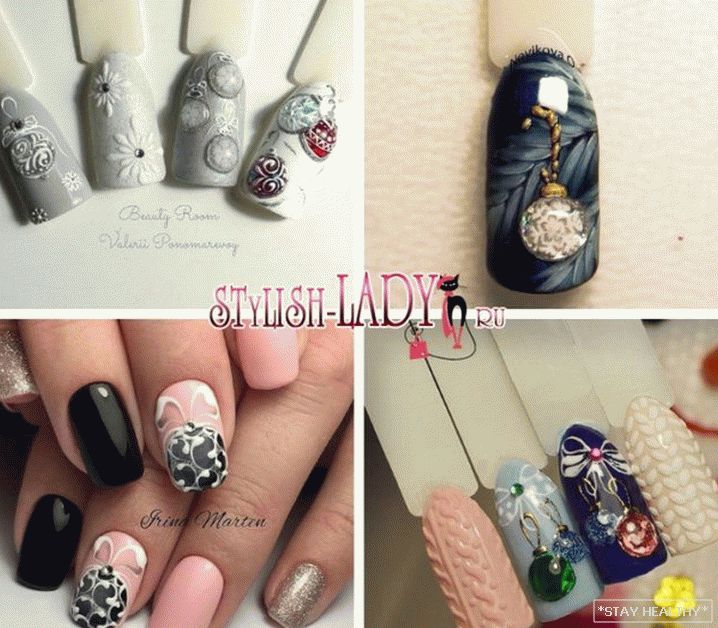 Manicure ideas
Christmas and New Year are just those holidays when it's not a sin
play pranks with the use of paints and drawings on the nails. That in
any other time of year may look too vain, on these
Holidays would be perfectly appropriate.
To create a beautiful and harmonious manicure you can
use the following ideas:
Emerald nails, plus a Christmas tree design on a nameless
finger The background can be white, the finish is red and
gold. This is the easiest and most obvious choice for the New.
of the year.
The same option, but closer to the classics – red nails with design
on the nail of the ring finger. This is a more versatile manicure,
suitable for almost any kind of celebration and celebration – from
home gatherings before going to the restaurant.
White nails with a Christmas tree on a ring finger and a fur-tree toy on
average. Since the manicure looks pretty strictly and concisely, to
it can add rhinestones and glitter, it will give
festivity.
Can обойтись без рисования традиционной елочки, а пойти более
difficult, but much more spectacular way. On each nail or on
Selected two depicted on the branch of spruce with elegant decorations. TO
this decor is clearly asking for the addition of sparkles, kamifubuki and
rhinestones. If the tree looks better on long nails, then such
Design can be placed on short.
If you want a more concise version, but at the same time
smart, it is worth using a gold varnish and the image
stars. It symbolizes the bright feast of the Nativity of Christ.
This manicure is quite self-sufficient, it is great for any
outfits, looks festive and catchy. The star can be laid out
tiny rhinestones and decorate it with an elegant spruce twig.
New Year's jacket. If you make gold holes, emerald
nail platinum and scarlet smile line, it will immediately be clear that
symbolizes such a manicure. And adding a Christmas tree silhouette to
ring finger, painted gold or red, only
emphasize the idea.
Dark blue lacquer, studded with silver or gold stars,
It will be in perfect harmony with the pattern of a snow-covered Christmas tree on
one of the nails.
Harmony textures. It is not necessary to use only glossy
lacquer, which, of course, looks very catchy and elegant. But
the use of various textures in manicure significantly diversifies
decor For example, on a matte background will look very nice
tree painted with sand varnish – it will get the texture and volume.
And on it you can draw bright glossy toys, add
sparkles.
In one manicure matte and shiny varnishes are well combined.
The main background is covered with matte varnish, it can serve as a base for
effective french or moon manicure using glossy,
shimmer and glitter varnishes.
Strict dress code will be powerless in front of the original and
very simple but stylish New Year's manicure. It is traditional
neutral lacquer solid color with decor placed on the nail
one or two fingers. TOрошечная елочка или ветвь этого
Christmas tree painted in gold or silver
will emphasize the festivity, but will not allow to go beyond the hard
office requirements.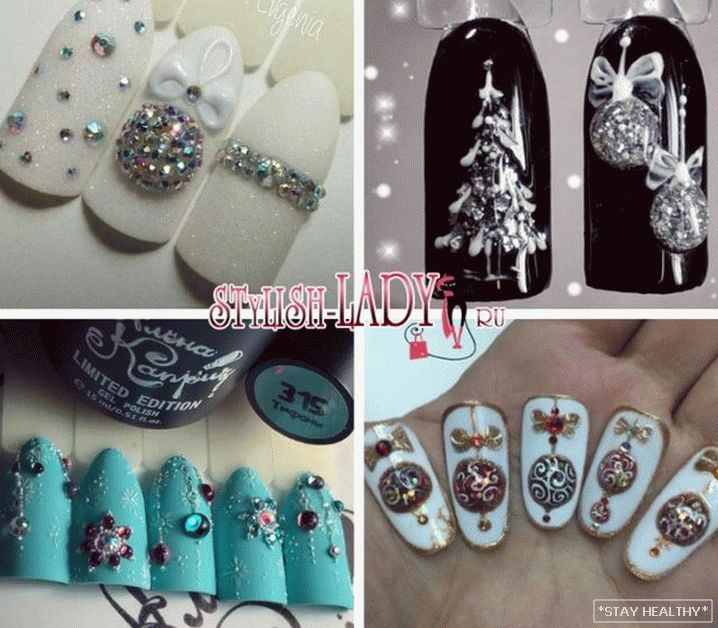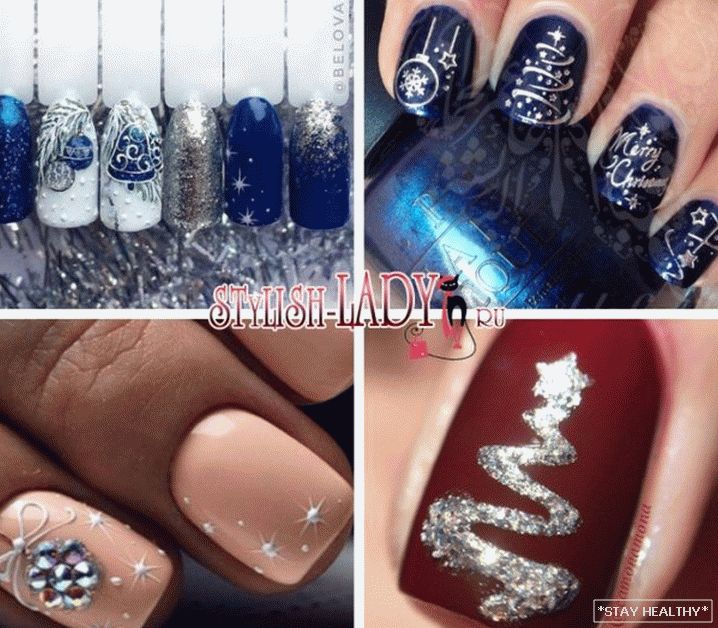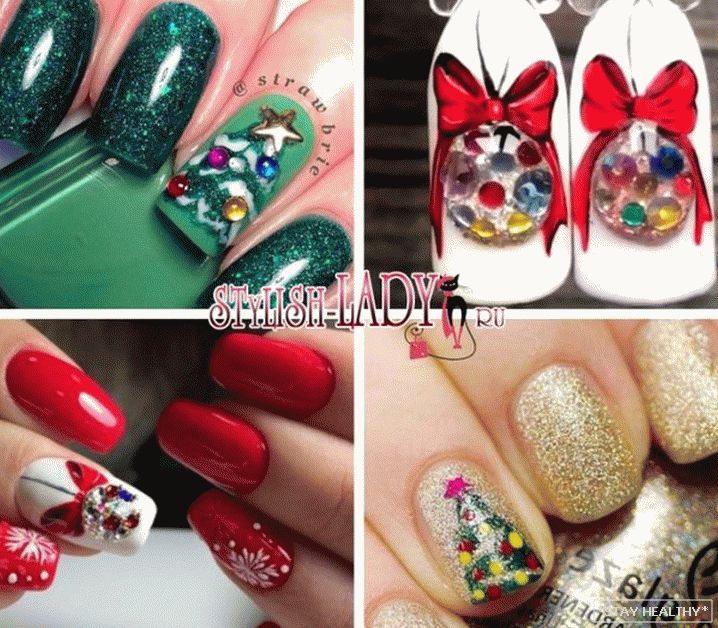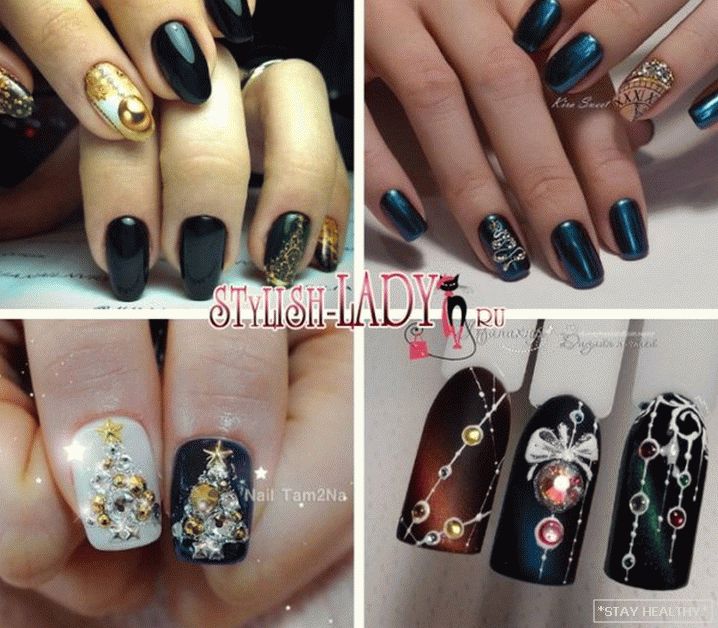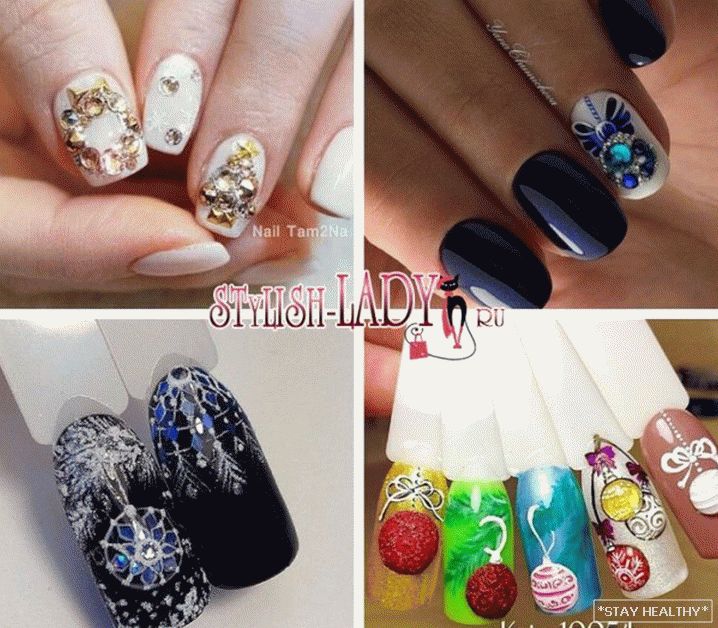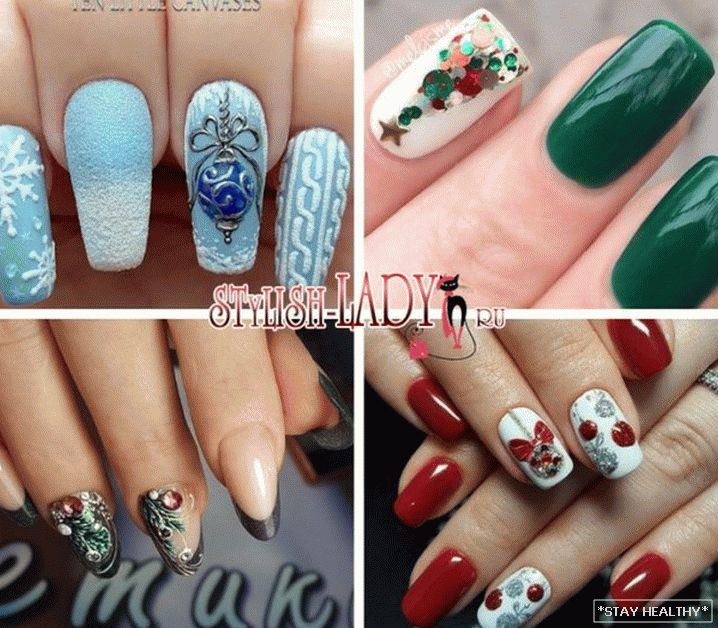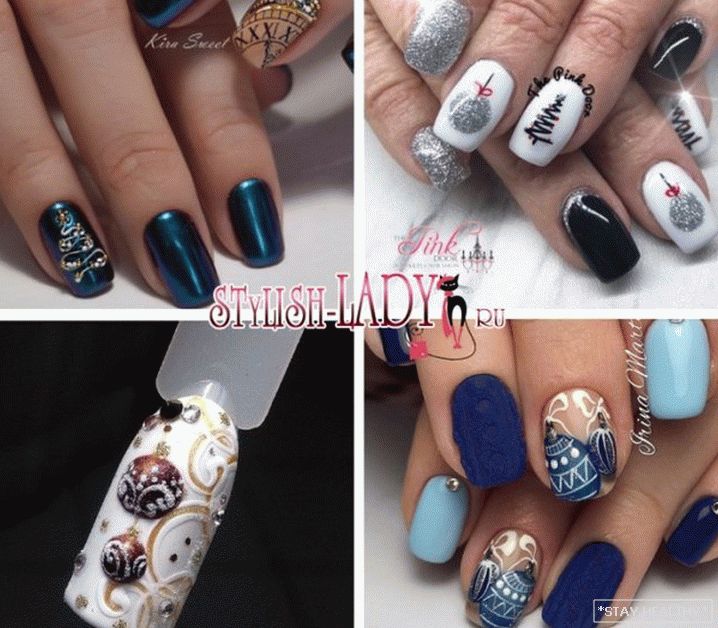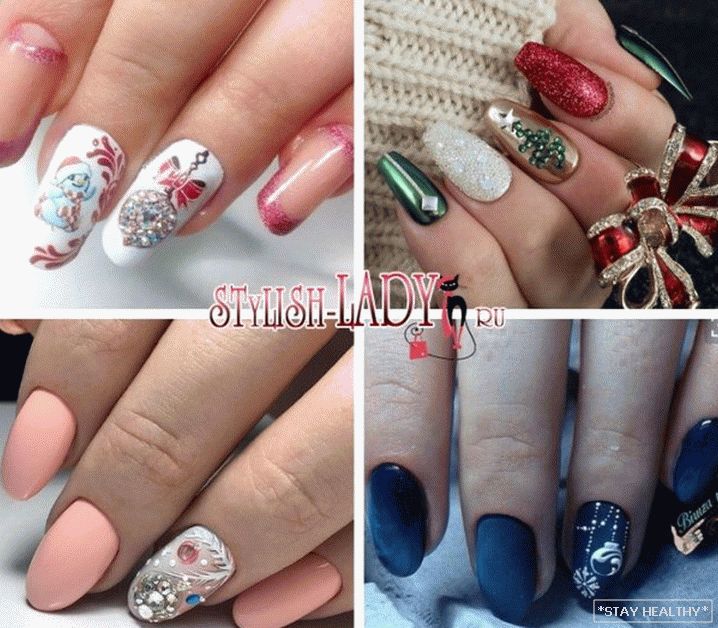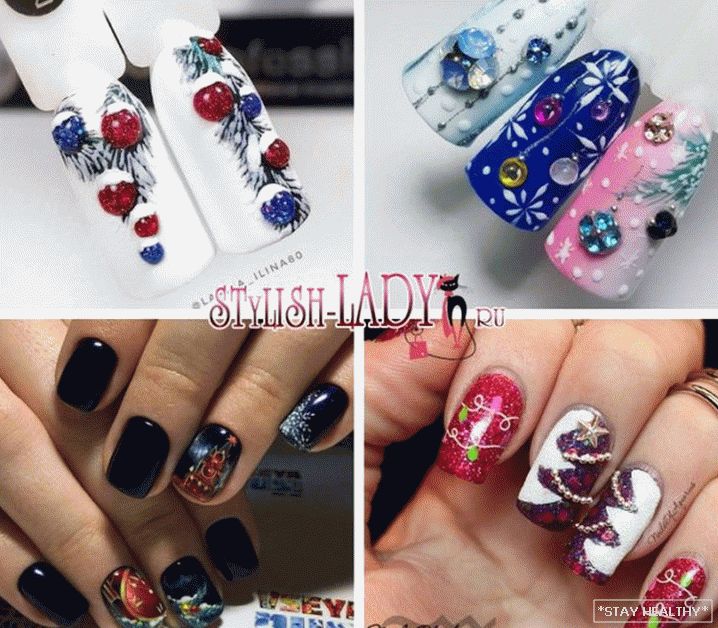 If a holiday is planned for holidays, the best
run the design in gel polish. Now they have a wide range of colors and
excellent durability. With the help of acrylic there is an opportunity to make
embossed drawing of a Christmas tree, decorate your hands with shiny rhinestones. Behind
the state of all this splendor can not survive – gel Polish
the whole vacation will last perfectly, decorating its owner and not
delivering no hassle.
The choice of drawings and tones for the New Year's manicure is very large,
the main thing is that he would approach the outfit and respond to the tastes of the hostess. But,
as with any kind of nail design, it is better to comply with the measure than
go overboard with the decor and compete with an elegant Christmas tree.