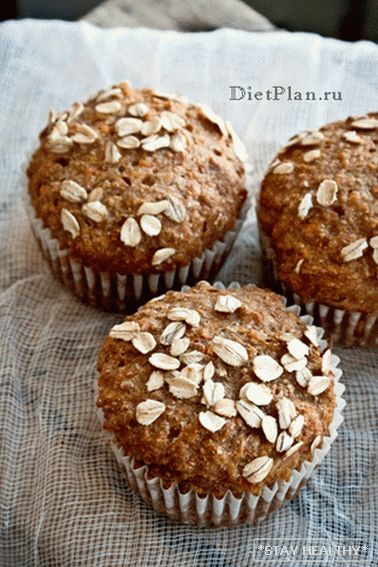 Healthy muffins are great for morning tea.
or as a snack. For the lean option, replace yogurt in
recipe for apple juice.
Ingredients
(per 10 pcs.) 1 tablespoon wholegrain flour 1 jar (125 g)
natural yogurt (can be replaced with thick yogurt) 1 small
carrot 1 small apple 2 tbsp. bran 1 tbsp. honey 1 tsp
cinnamon 1 tsp vegetable oil wood chips
Carrot Muffin Recipe
1. Peel carrots, coarsely chop, fold into a blender and
grind to grains the size of buckwheat kernels.
2. Wash the apple and grate on a fine grater. It should work
applesauce.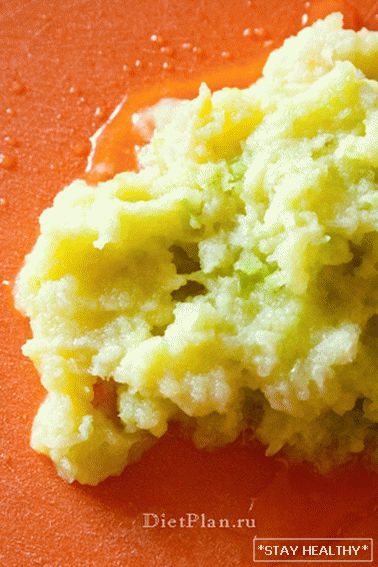 3. In a deep bowl, mix the sifted flour together with cinnamon and
soda Add yogurt (or apple juice for the lean version) and
mix. Add honey, applesauce, carrots and bran,
Stir, cover with a kitchen towel and leave for 10 minutes.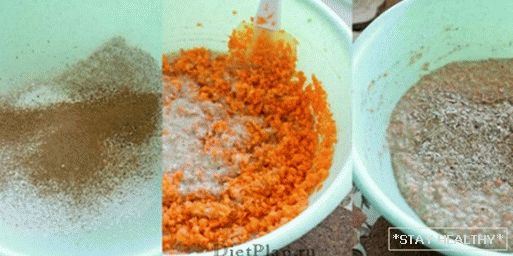 4. Pour the butter into the dough. Grease baking tins
oil (if using silicone, you can not lubricate) or
use paper molds.
Put the dough, sprinkle with oatmeal and bake in
preheated oven at 180 C for 45-50 minutes.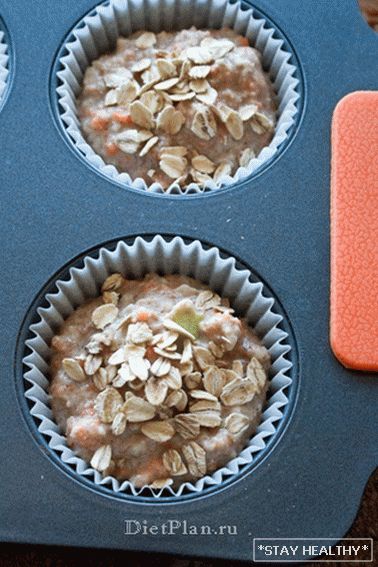 Enjoy your meal. In one muffin about 80 calories
(kilocalories).
Calorie content
| Ingredients | amount | B / F / U | Kcal |
| --- | --- | --- | --- |
| whole grain flour | 1 tbsp. (125g) | 17.5 / 2.5 / 90.6 | 424 |
| natural yoghurt | 125 g | 4.5 / 4/6 | 76 |
| small carrot | 1 PC. (80g) | 0.5 / 2 / 6.4 | 43 |
| little apple | 1 PC. (110g) | 0/0/27 | 105 |
| bran | 2 tbsp. (10g) | 1.5 / 0.5 / 6.5 | 22 |
| vegetable oil | 1 tsp | 0/4/0 | 36 |
| cinnamon | 1 tsp (2g) | 0/0/1 | 6 |
| honey | 1 tbsp.л. (30g) | 0/0/25 | 90 |
| Total (10 pieces) | | | 802 kcal |
| 1 muffin | | | 80 kcal |
| 100 gr | | | 164 kcal |
This recipe from the category
Baking, Cupcakes, Carrots, Oatmeal