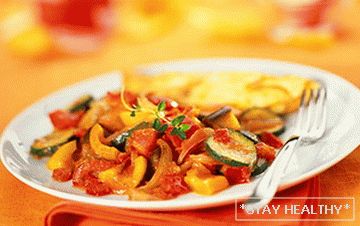 Чт, 15 дек 2016 Автор: Ирина Ковалевская

Side dishes can be served to all cold or hot meat and
fish dishes, as well as some snacks.

They are made from a variety of foods: pasta,
vegetables, cereals, mushrooms, legumes, fruits and even berries. Special
vegetable side dishes are popular, and they can be made from
boiled, fried, stewed, fresh, baked, salted and
pickled vegetables.

Side dishes are also prepared from cereals, in the form of crumbly or viscous.
porridge Side dishes of beans, peas and other legumes can have
kind of mashed potatoes or boiled in the form of whole grains. Basic requirement
to any side dish is a match for the product for which it
It is prepared according to taste, aroma and food characteristics. we
bring to your attention the recipes of original side dishes for meat,
fish and bird.

Рецепт: Венгерский гарнир к мясу из желтого
sweet pepper and green string beans (garnish for meat)

With the fact that vegetables are the best garnish for meat, agree
everyone who tastes this dish. It is perfect for beef,
and to pork.

To prepare it, wash it and, after removing the seeds, cut
Julienne 2 large red or yellow sweet peppers. Then,
heating in a pan 2 tbsp. l vegetable oil put there
chopped pepper, 300 gr. green beans (defrost it does not
necessary), 2 teaspoons of sweet paprika, zest of one lime and juice
half lime

All this, while stirring, we cook about 5-7 minutes, and at this time
chop a small bunch of parsley.

Then, добавив в сковороду петрушку и соль по вкусу, жарим всё
about 2 more minutes, then remove from the heat and, after cooling, serve in
as a side dish for meat or as a separate dish.

Рецепт: Пряный рис с горошком (гарнир к
fish))

To prepare it, we wash 230 g of grained rice, pour
cold water and cook over low heat until water is
will evaporate.

While the rice is boiling, chop 1 onion finely and fry the onion until
transparency on sunflower oil.

Затем добавляем туда по 1 ч. l curry and ground jira, well
mix it up.

In the rice, which should be almost ready, we lay out the fried
onions and 100 g of frozen green peas. Mix well
add salt to taste and keep on fire until complete evaporation
water.

After removing the pan from the heat, let the rice stand for 10 minutes. After that
serve the dish on the table, adding chopped fresh to each plate
cilantro.

Рецепт: Запеченный картофель с кинзой и
garlic (garnish for poultry)

To prepare this, one might say, the perfect side dish to
poultry dishes, peel 4-5 potatoes, cut it into slices and
lay out in a baking dish. Add a couple of tablespoons of olive
oils, 5-7 cloves of garlic, which must first be cleaned
and cut in half, and 2-3 sprigs of fresh rosemary. Slightly
seasoning with coarse salt, bake in the oven at 200ºС for 20
minutes Serve hot.