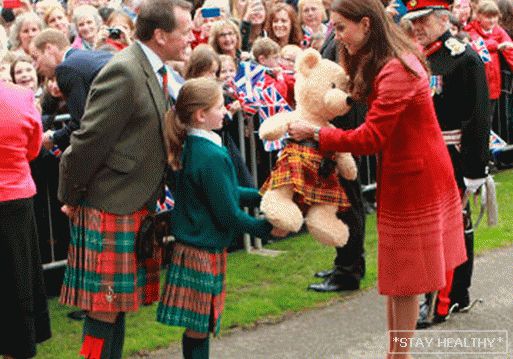 Fri, May 30, 2014

Kate Middleton for about a month did not attend social events. it
gave the paparazzi a reason to spread rumors about the pregnancy of the duchess.
In particular, it was said that she was expecting twin girls and not
due to health problems. But yesterday
Kate and her husband came to Scotland, where she actively communicated with
subjects and even took part in tasting alcohol
drinks.

Judging by the way Kate looked, nothing points to
health problems. Great coat by Jonathan Saunder and
a dress from Goat emphasized the slim figure of the Duchess, showing
absence of any changes. However, reporters noted that
Kate was constantly covering her belly with a clutch or a bouquet of flowers.

While Kate was talking to her subjects, Prince William was reviewing
rescue helicopter and talked with the pilot. Little George did not come to
Scotland with his parents, he stayed at home with a nanny. However, as a gift to him
A teddy bear and a kilt were handed over.