In this workshop we will look at one of the options for lip makeup.
on Halloween. In fact, it can be on a different subject, if
pick up other shades of lipstick. Since the makeup will be done in
Ombre technique, it will be fashionable and slightly add volume to the lips.
This option is ideal for the makeup of the witch.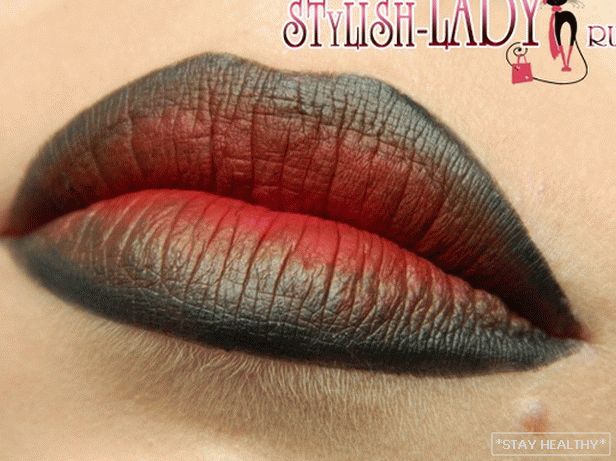 To create a gradient on your lips, you'll need black lipstick,
brown-bloody, burgundy shades. Also stock up
several brushes that are very comfortable in work, since we
We will work with black on the contour and it should be
as neat as possible.
You can choose completely different textures to create
such lip makeup. It can be a make-up and wax watercolor for
make up. But make-up floats and gets dirty, and watercolor dries and it needs
mix with additional funds. Lipstick same especially
persistent, will care for lips all evening.
Surely to such lip makeup in accompaniment will be no less
scandalous eye makeup. Therefore, impose cleanliness on the skin of the face,
so that in general, everything does not look like dirt, but was clear and beautiful.
Pre-moisten lips, especially if you choose matte
lipstick or watercolor. A few minutes later remove the excess balm
and toned lips. Walk on the skin with a brush in powder to
fix the result and make the lipstick more resistant.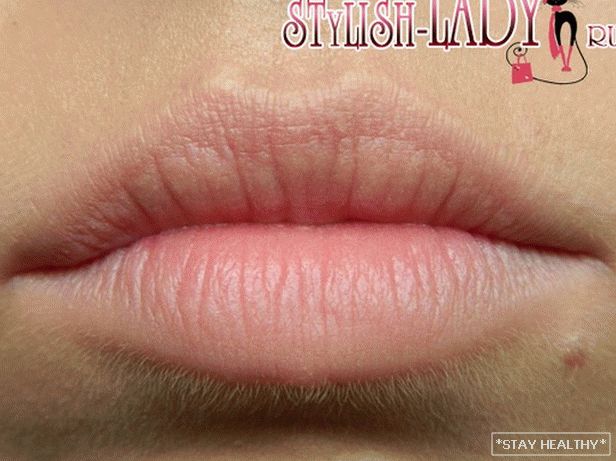 Black color draw the contour of the lips. We try to go to the circuit
approximately 2 mm. Make sure that the ends of the lines are closed.
at one point and observe symmetry when lip makeup. If by chance
brush made an extra move then take a dense brush for
concealer, type a little tone and gently correct the contour,
wiping a little too much. We extinguish black color from the contour of the lips
towards the center.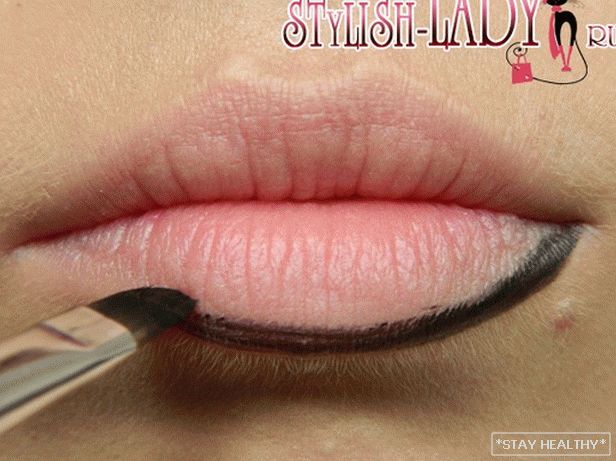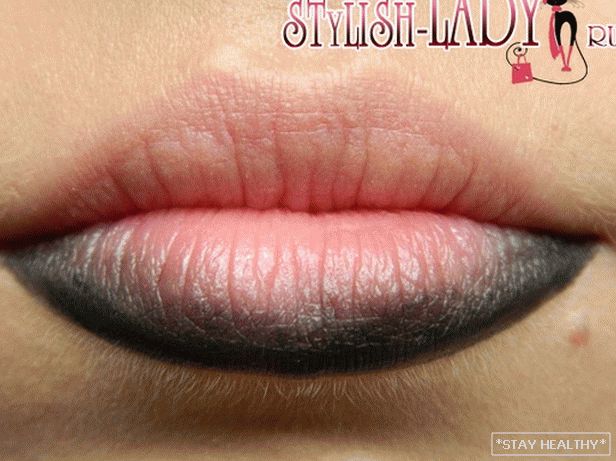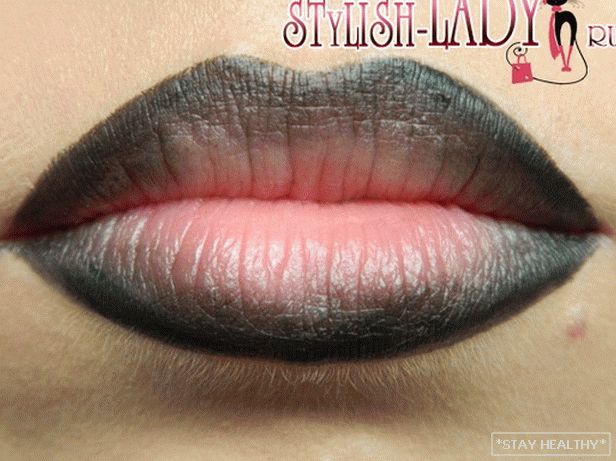 Now we put a bloody shade of lipstick, not reaching the contour 2-3
mm leave free space in the center of the lips on the bottom as well
and on the upper lip.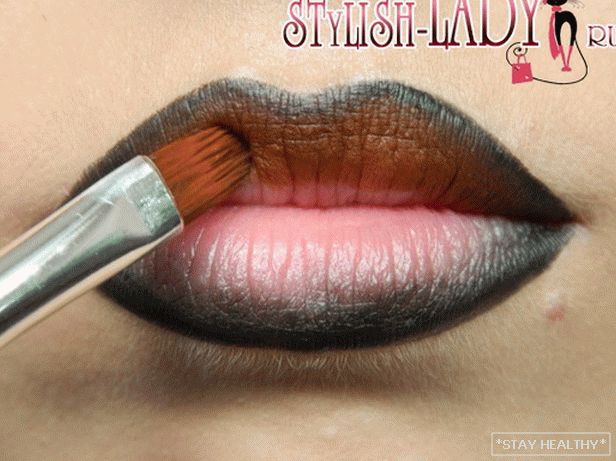 After that, brush with black lipstick again extinguish the contour by
towards the center of the lips. So we mix two
shade.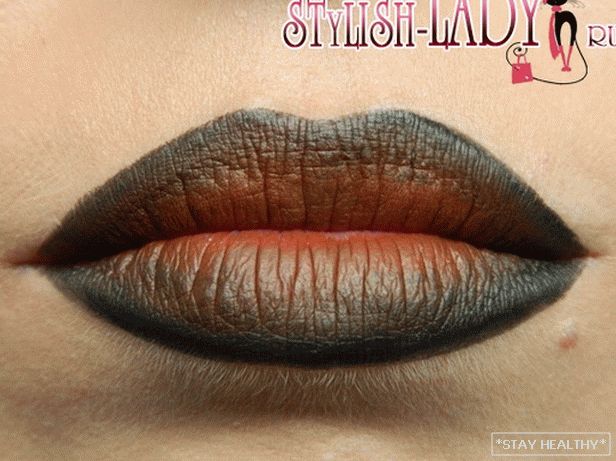 Apply in the middle of a burgundy or red shade of lipstick and
mix it with bloody. It should make a smooth transition with
black to bloody, from bloody to burgundy.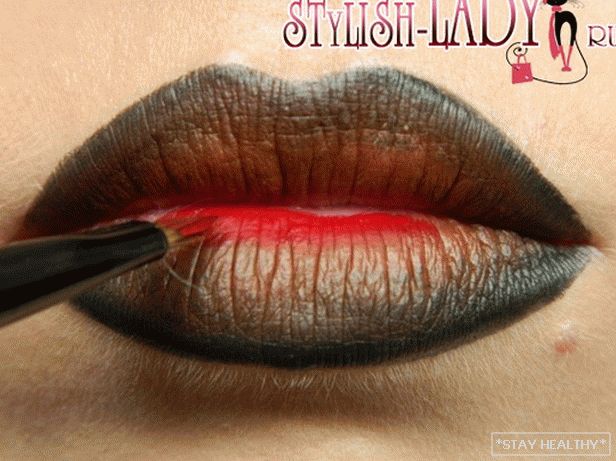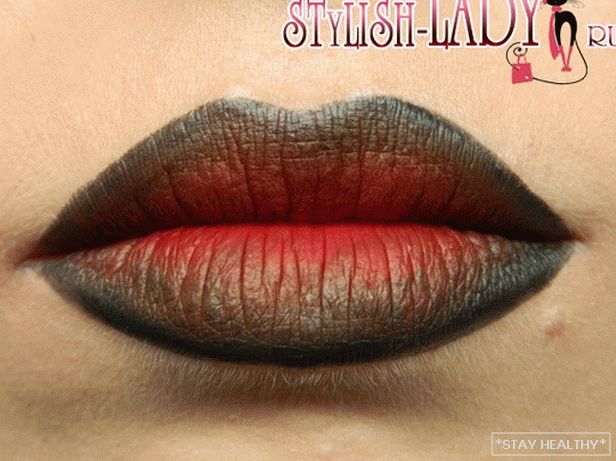 Lips can be covered with a gloss, if you need volume or
3D effect. You can make the color lighter, for this from black
colors go immediately to red or burgundy.